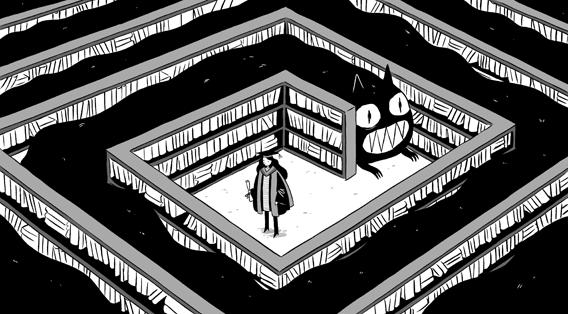 "[W]hat if I told you that by 'five hours' I mean '80 hours,' and by 'summers off' I mean 'two months of unpaid research sequestration and curriculum planning'? What if you'll never have time to read books, and when you talk about them, you'll mostly be using made-up words like 'deterritorialization' and 'Othering'…I can't even tell you what kind of ass you have to kiss these days to get tenure — largely because, like most professors, I'm not on the tenure track, so I don't know."
Another one for my burgeoning PhDont tag: Literature professor and Kafka scholar Rebecca Schuman explains once again why getting a humanities PhD is a terrible life decision these days. "No, you will not get a job – In the place of actual jobs are adjunct positions: benefit-free, office-free academic servitude in which you will earn $18,000 a year for the rest of your life."
What she said: The jobs are not out there, the wheels have come off the tenure-track cart, and many people are in a bad way. I count my lucky stars every day that I had a prior career to fall back on.
Update: "More attorneys are finding themselves in plights similar to that of the thirty-four-year-old lawyer with more than $200,000 in school loans and a job that would never pay enough to retire them: 'It's a noose around my neck that I see no way out of.'" As Stephen Harper points out in Salon, law school isn't the best answer either. "The promise of a secure future at a well-paying job is often illusory. The persistent problem of lawyer oversupply rose to crisis level, and the market for new talent has remained weak…For most of the nation's forty-four thousand annual graduates today…positions were never there at all."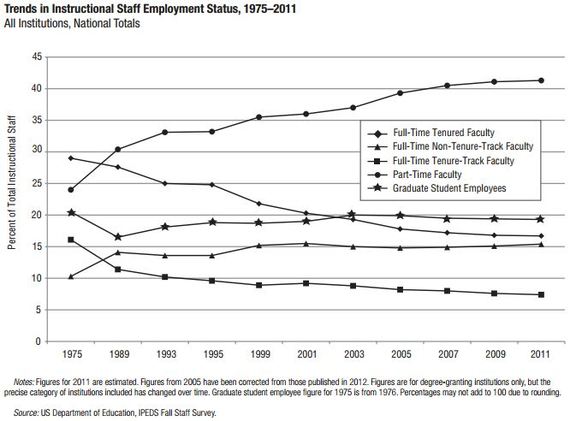 Update 2
:
"Once, being a college professor was a career. Today, it's a gig…Since 1975, tenure and tenure-track professors have gone from roughly 45 percent of all teaching staff to less than a quarter."
More fuel for the pyre:
The Atlantic
's Jordan Weissmann
offers a graph depicting the demise of tenure
.
"[T]he big story across academia is broadly the same: if it were a movie, it'd be called 'Rise of the Adjuncts.'…The AAUP reports that the median pay for teaching a single course was $3,200 at a public research university, and just $2,250 at a community college.
"