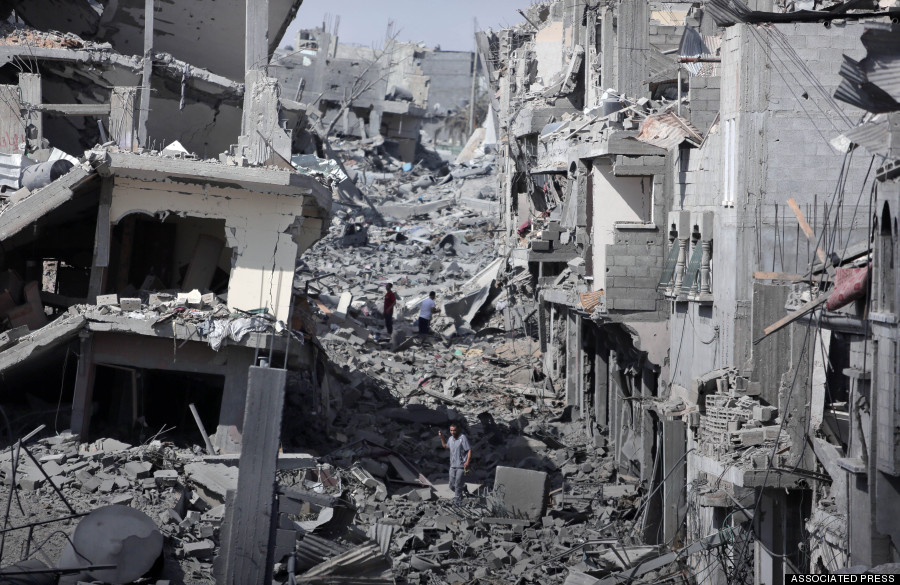 "In the past seven or more years, Israel has besieged, tormented, and regularly attacked the Gaza Strip. The pretexts change: they elected Hamas; they refused to be docile; they refused to recognize Israel; they fired rockets; they built tunnels to circumvent the siege; and on and on. But each pretext is a red herring, because the truth of ghettos…is that, eventually, the ghetto will fight back. It was true in Soweto and Belfast, and it is true in Gaza."
In the New Yorker, Columbia professor Rashid Khalidi excoriates Israel's "collective punishment" in Gaza, and our complicity in it. "[T]he United States puts its thumb on the scales in favor of the stronger party. In this surreal, upside-down vision of the world, it almost seems as if it is the Israelis who are occupied by the Palestinians, and not the other way around. In this skewed universe, the inmates of an open-air prison are besieging a nuclear-armed power with one of the most sophisticated militaries in the world."
And before the Jon Stewart heads start popping up to accuse Khalidi of rabid anti-Semitism for questioning the targeted bombing of civilian infrastructure, see also Roger Cohen's recent piece in the NYT:
"What I cannot accept, however, is the perversion of Zionism that has seen the inexorable growth of a Messianic Israeli nationalism claiming all the land between the Mediterranean and the Jordan River; that has, for almost a half-century now, produced the systematic oppression of another people in the West Bank; that has led to the steady expansion of Israeli settlements on the very West Bank land of any Palestinian state…that pursues policies that will make it impossible to remain a Jewish and democratic state; that seeks tactical advantage rather than the strategic breakthrough of a two-state peace; that blockades Gaza with 1.8 million people locked in its prison and is then surprised by the periodic eruptions of the inmates; and that responds disproportionately to attack in a way that kills hundreds of children." This.
When Gaza erupted in 2009, I posted about how we needed here in America "the type of broader range of discussion about the Israeli-Palestinian conflict that you can find it…say, Israel. It's both embarrassing and extremely counterproductive for our nation to be seen — and to continually be used — as a knee-jerk diplomatic dupe that will always blindly support policies initiated by the most conservative factions in Israeli politics."
Well, not much seems to have changed in Washington, unfortunately. Bibi Netanyahu is still the Dubya of Israel (tho' these days Andrew Jackson comes to mind), still doing all he can to destroy any hope of a two-state solution. His government is offering up absurd defenses for murdering civilians that we wouldn't countenance for a second if they came, from, say, Russia. And, as usual, we — and we alone — are backing their play at the UN.
Still, whether it is social media, a generational shift, or just shock at the scale of death and destruction happening, at least a broader discussion about the conflict is breaking out here in America this time.
Let's hope it continues. Despite all the heat that's shed on this topic, we should all at least be able to agree that there is such a thing as a wildly disproportionate response, and the IDF killing 1200-odd civilians who have nowhere left to evacuate to, in a bombing campaign with no end in sight, should probably qualify. At the very least, we can stop footing the bill for these sorts of atrocities.