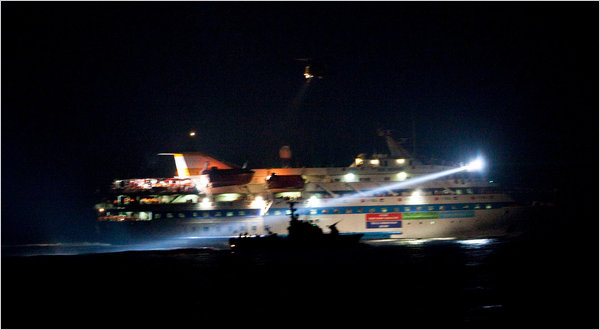 "
The Israeli commando raid on Monday on an aid flotilla, which left at least nine people dead, has dragged relations between Israel and Turkey to a new low, political experts here say, threatening to derail diplomatic relations between two close American allies.
"
Gee, I wonder why (and as if we need another crisis right now.) All the facts aren't in yet on what happened — in international waters — yesterday on the humanitarian-aid flotilla headed to Gaza. But, right now Slate's Fred Kaplan seems to be on the right track: "Israel's storming of the Mavi Marmara, killing at least nine Free Gaza activists and wounding several more, was an act of jaw-gaping stupidity–strategically and tactically, even leaving aside morally."
And morally, there are obvious problems too. As Peter Beinart — continuing his recent heterodoxy — explained today: "[T]he embargo must be tight enough to keep the people of Gaza miserable, but not so tight that they starve…There's a name for all this: collective punishment." Also of note: today's J-Street response: "This shocking outcome of an effort to bring humanitarian relief to the people of Gaza is in part a consequence of the ongoing, counterproductive Israeli blockade of Gaza…We urge President Obama and other international and regional leaders to take today's terrible news as an opportunity to engage even more forcefully in immediate efforts to end the Israeli-Palestinian conflict."
I agree, and I hope our immediate actions in the wake of this flotilla fiasco (I feel like I'm using that word a lot lately, and yet it continually applies) — watering down the UN resolution and working the phones for Israel — are being done with an eye to the long game of bringing peace to the region, not just the usual, reflexive circling of the wagons.