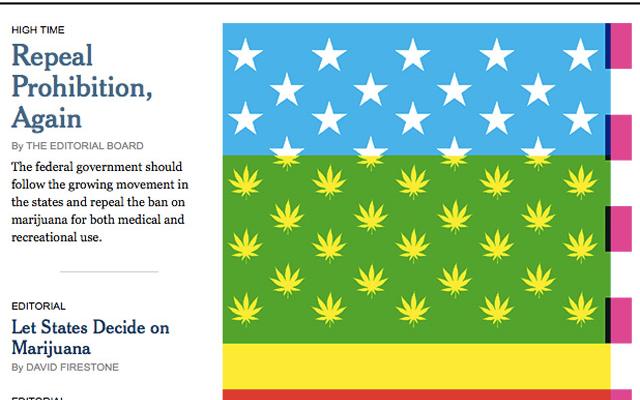 "It took 13 years for the United States to come to its senses and end Prohibition, 13 years in which people kept drinking, otherwise law-abiding citizens became criminals and crime syndicates arose and flourished. It has been more than 40 years since Congress passed the current ban on marijuana, inflicting great harm on society just to prohibit a substance far less dangerous than alcohol. The federal government should repeal the ban on marijuana."
In a much-touted op-ed over the weekend, the NYT editorial board calls for the legalization of marijuana. "We recognize that this Congress is as unlikely to take action on marijuana as it has been on other big issues. But it is long past time to repeal this version of Prohibition."
Well, I'm glad to see the NYT come down on this side of the ledger, and I appreciate them emphasizing the Prohibition angle. But their week-long Come-to-Jesus stance on this would be more impressive if they actually put action to words and stopped testing their employees for weed usage.
There's also a strong and somewhat irritating element of Captain Obvious here. As Gawker's Hamilton Nolan well put it:
"This is something that has been clear to the majority of American high school students for the past forty years. The fact that it took our nation's paper of record this long to catch up does not inspire confidence. The only reason the Times gets attention for expressing this opinion is because it is the Times. This is not thought leadership. It is thought following. The Times' endorsement of legal weed is remarkable not because we look to the Times for new or thought-provoking opinions, but because the Times is such a self-conscious, careerist, and cautious institution that if they want to legalize drugs, you know that shit is really mainstream now…
I do not say this to scold the newspaper for its position. Drug legalization is an issue that can use all the support it can get. I say it to kindly suggest that the New York Times editorial board — and all of the 'serious' mainstream media 'thought leaders' that define the boundaries of discourse acceptable on Sunday talk shows — ease back a wee bit on the self-importance. You're not defining the times. You're behind the times."
Aaaannnd speaking of those "serious" mainstream media thought leaders, several of them aren't quite on board yet anyway: "MSNBC's Joe Scarborough said at the time he didn't 'get the legalization thing' and offered a pithy defense of prohibition. 'Pot just makes you dumb,' he said. Former Newsweek/Daily Beast editor-in-chief Tina Brown said that 'legal weed' will make the United States 'a fatter, dumber, sleepier nation even less able to compete with the Chinese.'"
Er…first off, Scarborough better hope, for his own sake, that we don't exhaust our domestic reservoirs of dumb anytime soon, or he and his morning ilk are out of job. I was going to post a longer retort to this ridiculous pundit kvetching — which could only really come from deeply privileged people who'd never, ever have to worry about being arrested for weed — but Wonkette's Kaili Joy Gray has already done the heavy lifting:
"[E]ven if pot makes you fat and stupid, so does watching Fox 'News' and eating Big Macs, but last time I checked, none of these Very Serious People were on the Sunday shows pearl-clutching about that. Also…recall that Michael Phelps has been known to take hits from the bong, and he's the fastest swimming motherf**ker on the planet, and he is not fat or dumb and can compete with the Chinese just fine, thanks, and he has eleventeen trillion gold medals to prove it, so, you know. There's that." What she said.