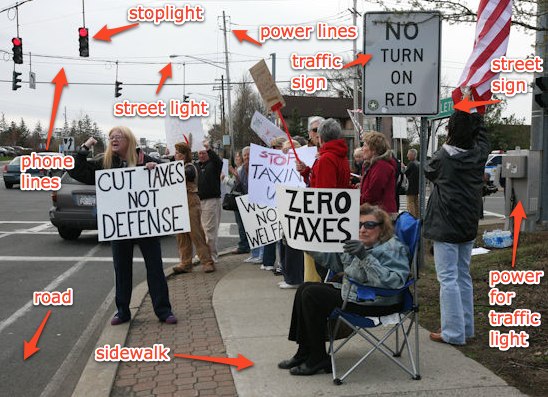 As many readers here well know, I've spent a good bit of time over the past decade studying US history. (In fact, over the past few years, I've occasionally helped my advisor keep a textbook up to date that recently drew the ire of right-wing blowhard Bill O'Reilly. Apparently, those damn pesky facts were somehow mitigating O'Reilly's ability to spew forth the usual idiotic blather.)
Anyway, over that period of time, I believe I have in fact learned me a few things. So, as a public service of sorts, and because, after this morning's revelations, I've reached the limit of craven and/or patently stupid falsehoods that I can feasibly ingest over so short a time, some "U.S. History for Dummies." I expect most everyone who comes by this site with any frequency knows all this, but ya never know. Apologies for the didacticism in advance — if this were this a Coors Light commercial, this would be where i vent. (And thanks to Lia for the timely visual tax lesson, above.)
"On an island under military occupation at the edge of an empire, the armed forces of a global superpower detain hundreds and sometimes even thousands of allegedly unlawful combatants. The powerful nation consigns the detainees to a legal limbo, subjecting them to treatment that critics around the world decry as inhumane, unenlightened, and ultimately self-defeating. That may sound like a history of Guantanamo. Yet the year was 1776, the superpower was Great Britain, and the setting was New York City. The 'unlawful' combatants were American revolutionaries."
in a mixed review of Edwin Burrows' Forgotten Patriots, friend and Columbia prof John Witt notes "eerie" parallels between Guantanamo Bay and revolutionary-era Manhattan, and offers choice advice for President-elect Obama. "To succeed, he will have to reunite the twin American traditions of interest and idealism. They are traditions his predecessor tore apart, but they are the true legacy of the Revolution."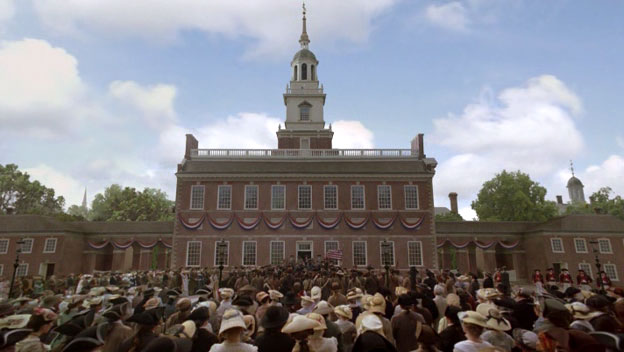 A very
happy 232nd birthday to our American republic
. In the year 2008, frankly, our record is mixed. On one hand, we've continued to stand by while our witless joke of a president has
assumed many of the dubious royal prerogatives
that originally propelled our
forefathers toward Independence
. On the other, we stand poised to make history this November in a way that would make the founding generation gasp in awe at how far we've come.
So, let's enjoy the 4th, and take a moment not only to remember how precarious the American experiment once was, but also to ponder what we hope to make of it in our own time. For, regardless of how terrible the past eight years — or forty years, for that matter — have been, "we have it in our power to begin the world over again."
Update: The Muppets are celebrating too. (Via Bitten Tongue/Gideonse Bible.)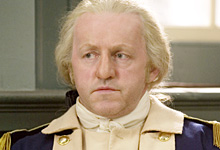 To give credit where it's due, tonight's installment of John Adams went in exactly the direction I'd hoped, spending much more time on the political and less on the personal than previous episodes. We had Hamilton and Jefferson fighting over Federalist fiscal policy, Jefferson and the Adamses debating revolution and the health of France, Citizen Genêt, the Jay treaty, the consternation of Washington over the Republican-Federalist divide, and the first transfer of presidential authority, all of which I greatly enjoyed.
I have only two minor quibbles: Some mention of the Whiskey Rebellion would've been grand (and could've been used to further dramatize Adams' fear of the Mob, as soon to be represented in the Alien and Sedition Acts.) And, more importantly, the forgotten Founder in the series thus far has been James Madison, who — unless he's been one of the backgrounders — has yet to appear. Even the good Doctor, Benjamin Rush, has had more screen time (although that's probably due to his reconciliatory role in Episode 7.) Madison was in the House while Adams presided over the Senate, so shoehorning him in might've been unwieldy. Still, I'd have been content to have seen even a tiny nod to the writer of the Constitution — Instead of screen time, they could've just "cast big" a la Rufus Sewell for Hamilton, signalling Madison's importance with a decent-sized cameo. (Now that I think about it, they should've done the same with Tom Paine earlier on.)
But, like I said (and my fondness for Franklin's Parisian shenanigans notwithstanding), this was probably my favorite episode since part 2, on the Continental Congress. Heck, I even made my peace with Morse's putty nose tonight. "I am fairly out and you are fairly in! See which of us will be the happiest!""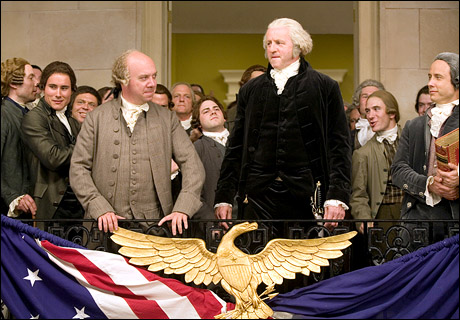 "'He United the States of America' is the miniseries' motto, giving credit to Adams for everything. Franklin (Tom Wilkinson) is a rascal; Washington (David Morse) is a sapskull. Jefferson (Stephen Dillane) is distracted and, finally, deluded. And poor Thomas Paine seems never to have been born…"John Adams" is animated as much by Adams's many private resentments as by the birth of the United States. It is history, with a grudge." Speaking of Jill Lepore, her review of HBO's John Adams appeared in The New Yorker a month or so ago. Now that we're four weeks in, I'll say that John Adams has worked as a decently acceptable Sunday night methadone for early Wire withdrawal. I particularly enjoy Stephen Dillane's Jefferson, and (like many Americans of the early national period, I'd presume) would rather spend more time with him than with Giamatti's Adams. Tom Wilkinson's Ben Franklin is also worth relishing, but he's somewhat hamstrung by the fact that virtually every other line he gets is one of Franklin's famous epigrams. (The jury's still out on David Morse and his putty nose — I'll reserve judgment until after Washington's presidency next week.)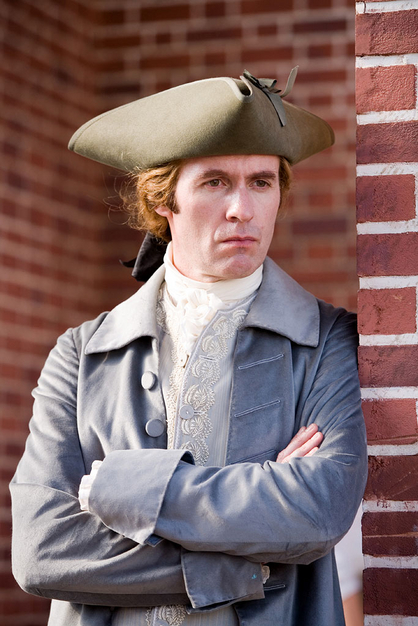 My biggest problem with the show thus far, and this reflects my own historical biases more than anything else, is the sheer amount of time spent on John and Abigail's relationship and family trials. This is not to say I'm totally averse to the social history: The smallpox inoculation, for example, was a intriguing addition to Episode 2. But, more often than not, I'd rather see much more birthing of the United States and much less of the domestic drama. Tonight's episode, for example, spent more time on the respective travails of the Adams children than it did on the writing of the Constitution. Now, granted, this is partly because John Adams had very little to do with said writing (although you'd get no sense here that he was nevertheless defending it from afar.) Still, Adams and Jefferson discussed our founding charter for only one brief scene, thus shoehorning Jefferson's thoughts on generational revolution, Franklin's "republic, if you can keep it" riposte, Jefferson as "the American Sphinx," the brewing of the Adams-Jefferson conflict, and the venerable undergraduate essay question, "Was the Constitution a continuation or repudiation of the American Revolution?," all into five or so minutes. As a political history aficionado, I eat this stuff up like catnip. But then there's at least 30-40 minutes devoted to John and Abigail doing variations on their Saltpeter-Pins schtick, and/or Sarah Polley and the rest of the Adams kids all grown up, courting and drinking. (Gasp!)
Now I understand McCullough's book is above all else a biography, and some of this is par for the course. But — call me old-school, top-down, whatever — I'm really hoping the final three episodes, and particularly the next two on the "Age of Federalism," spend significantly more time concentrating on the affairs of the early republic, and both John and Abigail's important role in them, than on the domestic bliss and family squabbles of the Adamses themselves.
"Let the argument about the viability and practicality of Obama's major message go forward. But as it does, even his critics need to acknowledge that he is not a weird historical aberration. His message has roots in our deepest political traditions. Indeed, it is in accord with the most heartfelt and cherished version of our original intentions as a people and a nation." In the LA Times, historian Joseph Ellis (of American Sphinx, Founding Brothers, and His Excellency) argues Obama's public interest message has roots in the writings of the Founders. "There are several passages in Obama's memoir, 'The Audacity of Hope,' that suggest a familiarity with the founders' legacy. He recalls teaching constitutional law at the University of Chicago and always going back to 'the founding documents — the Declaration of Independence, the Federalist Papers and the Constitution,' which provide 'the record of the founders' intentions' and 'the core ideals that motivated their work.'"
HBO's forthcoming mini-series of David McCullough's John Adams looks to be in the can, and you can now watch the teaser (with a rather breathless endorsement by the author) at the official site. (It begins airing March 16, presumably after the close of The Wire.) The cast includes Paul Giamatti (John Adams), Laura Linney (Abigail Adams), Danny Huston (Sam Adams), Sarah Polley (Nabby Adams), Rufus Sewell (Hamilton), Tom Wilkinson (Franklin), Stephen Dillane (Jefferson), David Morse (Washington), and Bad Putty Nose (Washington's Nose).
America. Land of the free, home of the obese illiterates? "We are doing a better job of teaching kids to read in elementary school. But once they enter adolescence, they fall victim to a general culture which does not encourage or reinforce reading. Because these people then read less, they read less well. Because they read less well, they do more poorly in school, in the job market and in civic life." An extremely frightening new study by the National Endowment for the Arts finds that, despite the best efforts of the First Lady (which I applaud) over the past seven years, Americans increasingly can't read so good. "The NEA reports that in 2006, 15-to-24-year-olds spent just 7 to 10 minutes a day voluntarily reading anything at all. It also notes that between 1992 and 2003, the percentage of college graduates who tested as 'proficient in reading prose' declined from 40 percent to 31 percent."
Uh, what?! How can over two-thirds of college graduates not be able to read "proficiently"? This is the type of dire news that demands a Sputnik-level response from our political leaders. "A popular Government, without popular information, or the means of acquiring it, is but a Prologue to a Farce or a Tragedy; or, perhaps both, as James Madison put it in 1822. "[A] people who mean to be their own Governors, must arm themselves with the power which knowledge gives" Or, see Thomas Paine: "[I]t is monarchical and aristocratical government only that requires ignorance for its support," and that's what we'll be getting (more of) if this troubling trend continues. Not to get all progressive up in here, but education and citizenship are the lifeblood of the republic. Without them, the whole experiment falls apart.
"Having now finished the work assigned me, I retire from the great theatre of action, — and bidding an affectionate farewell to this August body, under whose orders I have so long acted, I here offer my Commission, and take my leave of all the employments of public life." After much negotiation with the family who's held the draft for generations, the State of Maryland acquires the original version of George Washington's military resignation speech of 1783 (in which he announced his standing-down from the Revolutionary army and helped set the precedent of civilian control over the newly-independent United States.) The manuscript will be unveiled today, as part of Washington's birthday festivities.