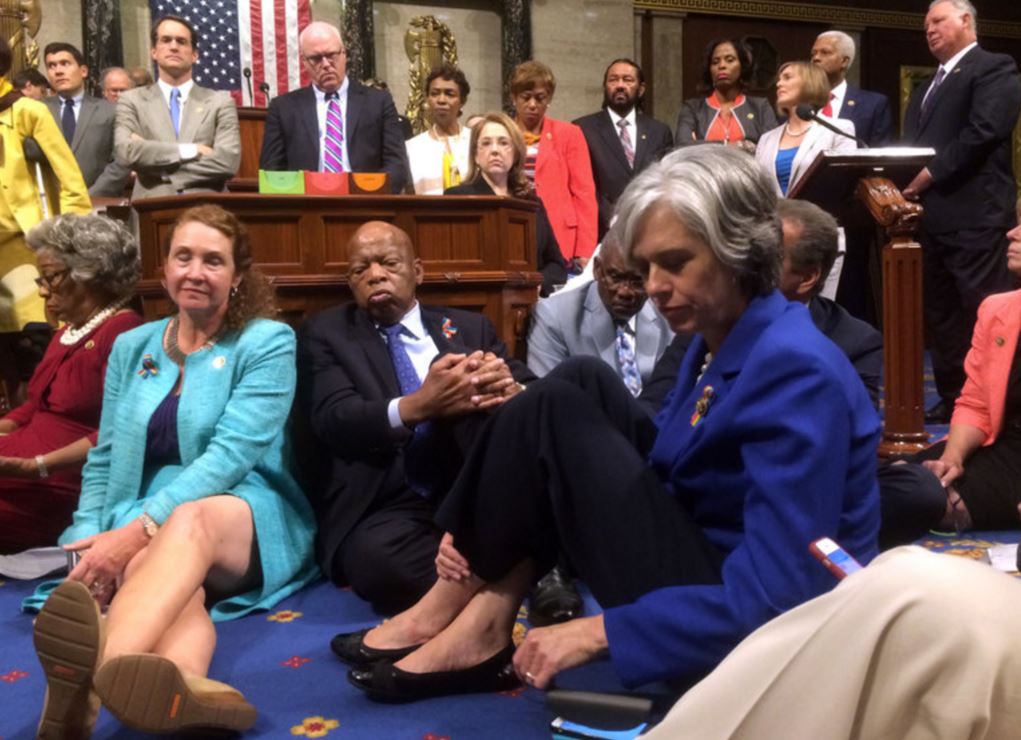 "Every child knows that rule number one in fighting the dark side is to not succumb to the dark side. This week, it seems, Democrats and liberals have forgotten this lesson. In attempting to one-up their Republican rivals, they have employed two tropes usually found in the conservative playbook: trampling on civil liberties and demonizing the poor."
In TNR, Clio Chang surveys the irritating wrongness of House Dems' recent sit-in. See also Keeanga-Yamahtta Taylor in Jacobin, Alex Emmons and Zaid Jilani in The Intercept, and Alex Pareene in Gawker: As Pareene says, "The move is fantastic political theater. It's also a tremendous waste of popular support and activist energy in support of a measure that isn't just ineffective but also actively offensive."
Honestly, this is why people can't stand congressional Democrats. There are many, many positive actions we could take to reduce gun violence in America — banning assault weapons and armor-piercing bullets, closing the gun show loophole, funding for CDC gun violence research, mandating gun safety classes with licenses.
So what do Dems do? They almost stumble into the right thing by (finally) taking a stand on universal background checks. But then they instead make the centerpiece of their precedent-destroying gambit — and just wait until the GOP is conducting sit-ins during the Clinton administration — a stupid, racist, and unconstitutional terror watchlist that has no gun violence prevention benefit whatsoever, except as a political stunt. (Apparently, attempts to include an assault weapons ban were nixed at the very top.)
If this is what Clinton means about getting back to the "spirit of 9/12", no thanks. We don't need another wasted decade of useless pandering and war on terror capitulation from the ostensible left. And let's be clear: John Lewis, Elizabeth Warren, Bernie — they're all at fault on this one. For shame.