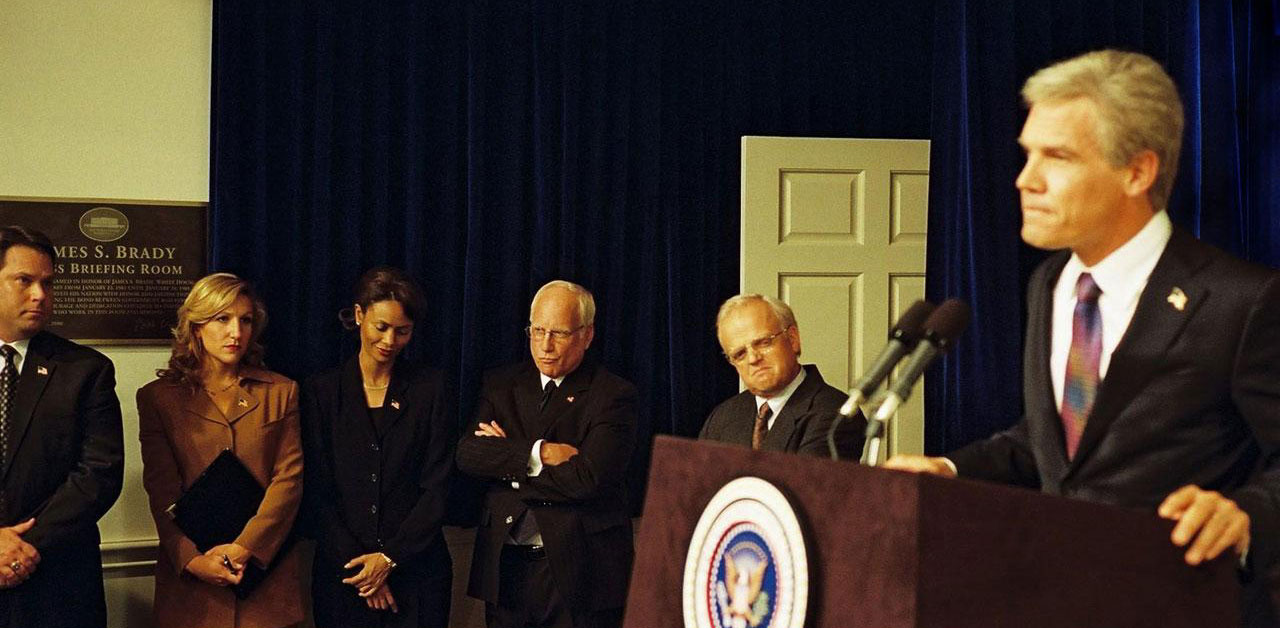 Before we set about
picking a new president
, some thoughts on the departing one:
Oliver Stone's W
, which I saw a few weeks ago and have been negligent in writing about, is a decently enjoyable and surprisingly sympathetic portrayal of
America's worst president since James Buchanan
. Still, it also seems a film that very few among the electorate were in the mood for right about now: Many lefties, I think, were looking for more red meat from the famously confrontational and controversial Stone, while conservatives were never going to set foot in the theater in the first place. As it is,
W
seems to have gotten sorta lost in the shuffle…which is too bad, really. It's a solid-enough biopic, and definitely far better than Stone's recent misfires,
Alexander
and
World Trade Center
. And, while it's played mostly straight, there are still a few funny satiric jabs interspersed throughout the film. (See, for example, Dubya
and the Vulcans
getting lost on a dusty Texas hike.) So I'd recommend it…with some misgivings.
As with his underrated take on Nixon, Stone mainly seems to want to understand, and thus humanize, Dubya here — Don't judge a man until you've walked a mile in his boots, etc. etc. And yet, while I found both the sentiment and the attempt laudable, I also think Stone may have missed the mark a bit here. In making Dubya so congenial (partly the fault of Josh Brolin, I guess, who's both great and thoroughly likable in the role), and in putting so much emphasis on his daddy issues (more on that in a bit), Stone seems to absolve 43 of more than he should in the end. However oppressive the psychological burden of being a Bush, Dubya was ultimately his own man and his own president, and, lordy, was he a terrible one. However, generous Stone's impulse in trying to understand Dubya, you can't just pin all of the incompetence and misdeeds of the past eight years on a lousy, poor-little-rich-boy upbringing.
If you've ever read anything about Bush 43, the story goes as you might expect: After a brief intro in Rangers Stadium, we meet President George W. Bush (Brolin) and various advisors in the Oval Office, as they mull over the decision to go to war to Iraq in 2003. (Speaking of which, Cheney seems a bit too Dreyfussian to me, Jeffrey Wright's Powell is far too heroic, and Toby Jones is too lithe and elfin — and not nearly porcine enough — to capture Karl Rove, but Thandie Newton's nerdy, scroonchy-faced Condi Rice is both kinda cruel and scarily dead-on.) In any case, soon thereafter we flip back to Junior's days at Yale, where the young dauphin spends his time drinking, frat-ernizing, and generally upholding the unyoked humor of his idleness. Basically, Dubya — crafty and streetwise, but too often convinced in the infallibility of his "gut" — is a good-natured screw-up of the first order, and he'd be the first to admit it, as he does time and time again to the long-suffering, emotionally reticent if otherwise indulgent "Poppy" (James Cromwell).
Yet, despite failure after failure, this good-timin' man evenually manages to muster up one great success in his life by wooing a good-hearted woman, the lovely librarian Laura (Elizabeth Banks). And, after a literal come-to-Jesus moment at the age of 40 (that's right, the bottle let him down), Dubya decides he will follow in Poppy's footsteps and enter the family business of politics. But, will his parents ever take this prodigal son seriously, particularly as compared to the family's one great hope, Jeb? And, even if they do, what lengths will Dubya go to alleviate his long-standing psychological issues with his father at this point? Would he, for example, start a war he thinks 41 didn't finish?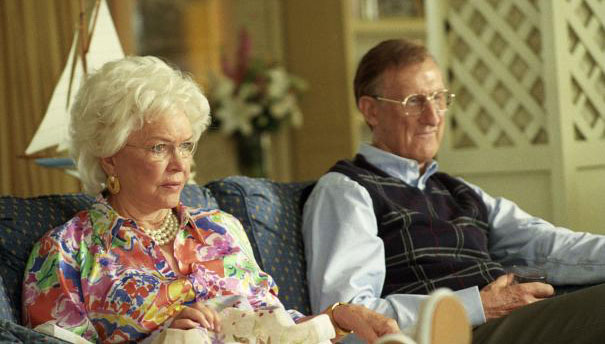 Now, from Charlie Sheen choosing between his working-class hero pa and Gordon Gekko in Wall Street, to Mickey and Mallory Knox inflicting the consequences of their childhood/sexual abuse on unsuspecting bystanders in Natural Born Killers, psychologically overdetermined characterization due to daddy issues is usually as omnipresent as mystical shamans in Oliver Stone films. (Or, for the other side of the coin, consider Mother Mary Steenburgen as the Ghost of Quaker Past in Nixon, or Angelina Jolie hissing with snakes in Alexander.) And, by itself, the Poppy-Dubya emphasis doesn't bother me all that much — Stone is at his best when he's painting on a broad canvas and laying it on thick, and just as the "cancer on the presidency" that was Watergate lent itself well to the gothic, Fall of the House of Usher look of Nixon, the story of 41 and 43 is an easy target for Henry IV/Henry V-type overtones.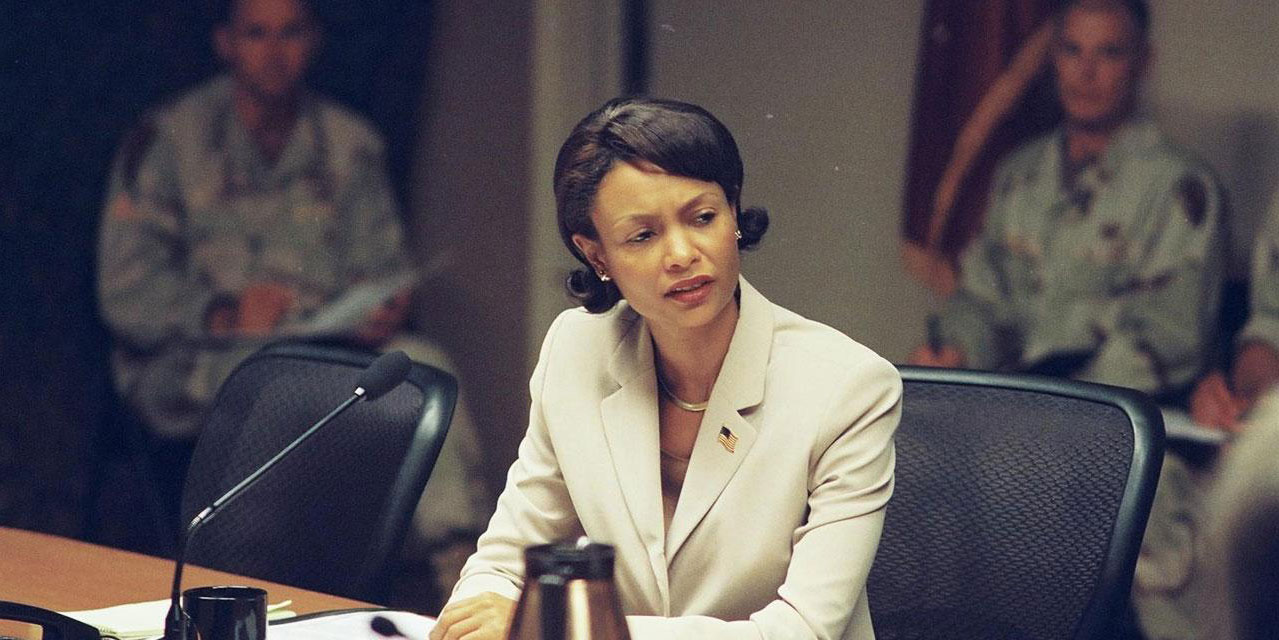 All that being said, can all the colossal mistakes and errors in judgment that have characterized the past eight years really just be attributed to the Dubya family dynamic? Stone tries to mitigate this notion some, I guess, by giving us an imaginary disquisition in the War Room on the World According to Dick Cheney. (It involves oil, Iran, and the embrace of empire.) Still, one mostly gets the sense here that Dubya is a regular, friendly fellow who's just bitten off more than he can chew in an attempt to please his pop. Such a reading, I think, underplays Dubya's own arrogance, his close-minded conviction in his own sense of the right, his Ivy League legacy-kid air of entitlement, his sniveling weasliness when caught in a pickle, and his habitual intellectual dishonesty. Put another way, I get the sense the real Dubya is much more of an unlikable jackass than Stone and Brolin make him out to be here, and you can't just pin all that and Dubya's constant sucking as president on Pop. I mean, c'mon now, dads don't get much worse than Darth Vader, but Luke turned out ok (if a bit whiny like the old man.) Eventually, the man must stand — and fall — on his own.
Still, for all its wallowing in Freudian father issues, W does end on an enjoyably bizarre note, with Dubya writhing on the horns of existential crisis. (No wonder he started reading The Stranger.) Has the prodigal son succeeded beyond his father's wildest dreams in Iraq, or has he forever shrouded the Bush name in ignominy? And how does one handle a situation like the one in Iraq anyway, where, unlike baseball (and bowling), there are no rules? For Dubya, it seems, the story ends at is has for him in most other situations — with him walking away with a smile, not looking back, and leaving someone else to clean up the godawful mess he's left behind.