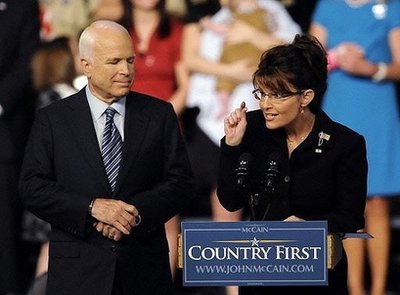 "As one McCain aide put it: "We either get Hillary's voters and we win, or we don't. It's not a mystery."
In a move that
reeks of desperate Hail Mary strategizing
(and, to my mind,
grossly
overestimates the potential PUMA vote in this country),
John McCain chooses Alaska governor Sarah Palin
, a woman
he'd barely spoken to
before yesterday, as his running mate. (I was flying back from Denver when the news hit, and it's safe to say the selection of "
Geraldine Quayle
" was met with general jubilation throughout the plane.)
Basically, I think Sarah Palin is a wonderful pick…for the Democrats. Palin may have been an excellent governor over the past year — who knows? — but she's an astoundingly poor choice for vice-president, worse even than Dan Quayle in the sheer tactical transparency of it. And I have every suspicion this gambit will backfire massively. To my mind, picking a running mate whose only obvious asset to the ticket is her second X-chromosome, and thinking that her sheer presence alone will somehow bring women to vote for McCain in droves, is not only a deeply sexist notion, it's patently idiotic. (Just ask Walter Mondale how well the any-female-we-can-find strategy works.)
Her femininity aside — and, let's be clear, that's obviously why McCain picked her, unless (I say this as a short man myself) he just wanted a veep smaller than him — here's a candidate who [a] mayored a town of 7000 people — college campus presidents have done more heavy lifting, [b] has been the GOP governor, for less than two years, of a state widely known to be a sinkhole of Republican corruption, [c] has her own ready-made scandal attached vis a vis this illegal firing of her ex-brother-in-law, [d] is a pro-life, creationist supporter of Pat Buchanan, and [e] has admitted earlier this month she didn't even know what McCain's stance on Iraq is. Now, that type of blatant ignorance may be what the GOP wants from their voters, but it's damn sure not what voters want from their presidential tickets.
One has to wonder: If the McCain campaign was going to stake everything on such a pathetically obvious gambit for the PUMA vote, why didn't they just pick Sen. Kay Bailey Hutchison, who also has the advantage of actually being qualified for the job? Well, apparently Sen. Hutchison wasn't sufficiently pro-life enough to fend off the fundies. So Team McCain had to venture all the way north of the border to find a pro-lifer up to snuff for the evangelical crazies…but don't worry, he's still a maverick independent and everything.
At any rate, because it's so dead on, here's the quality reaction of a MeFi'er, August Pollak, QFT. [Birddogged by WebGoddess.]
Oh my god, really?

Really?

Look, to be fair, I was halfway through a post last night on my own site about how ridiculous I though all the hard-right Freepers/Cornerites/etc. were harping about Palin. She was basically their new Fred Thompson. But I am seriously dumbfounded that they would have been this stupid.

Don't get me wrong, on a PR level this is masterful for McCain. He's killed all the momentum and press coverage about Obama's amazing speech last night. So I really am amazed they think that one shot at gaining the press advantage was worth the most unbelievably inept VP pick I could have possibly imagined.

Forget even among fields of conservatives in general: is anyone from the McCain camp going to make a convincing case that Palin is remotely close to the most qualified woman in the GOP to be a heartbeat away from taking over a guy who turns 72 today and has a history of cancer? She has been governor- for 18 months- of a state with a population smaller than Obama's state senate district in Illinois. Her previous office was the mayor of an Alaskan town with a population smaller than 3,000 people. At the very minimum, Obama has sat in on foreign policy sessions and dealt with national and international issues on the floor of the U.S. Senate. Palin has no foreign policy experience. This is literally one step above giving the slot to the winner of a game show.

So in what I can only perceive as a complete fit of insanity, McCain has decided to destroy with one pick the three talking points he had as an advantage over Obama:

Experience: She has none. Palin is utterly unqualified to be president of the U.S. Senate, let alone the country should anything befall McCain.

Celebrity: She's a former beauty pageant winner who's done multiple cover shoots for fashion and culture magazines and her claim to fame is being the subject of an article titled "America's Hottest Governor." There will be more talk about how she's attractive than her actual policy credentials. Her gender, in light of her utter political weakness, will be seen blatantly- and rightly- as the novelty McCain picked it for. There is no clearer a celebrity pick for McCain than this one.

Moderate Female Voters: Putting aside for a moment that she's outrageously anti-choice, if McCain truly believes that what really appeals to middle-age working-class white women is a younger, prettier, but amazingly less-qualified woman getting the promotion that Hillary Clinton didn't, then I can't really reflect any greater how utterly deaf to the interests of women the Republican Party is.

Jesus tap-dancing Christ. If McCain wanted a former beauty queen with no experience and a criminal investigation on her record I don't know why he didn't just pick his own wife.
Zing.
Update: Rasmussen has the first post-Palin poll, and it seems a gender gap has already emerged — Women aren't really buying it. "These numbers pretty much speak for themselves, but men have a favorable impression of Palin by a 35-point margin, whereas women have a favorable impression of her by an 18-point margin. Conversely, by a 23-point margin, women do not think Palin is ready to be President, whereas Palin lost this question among men by a considerably smaller 6-point margin." [Via Firedoglake.]