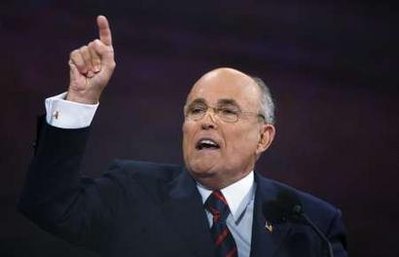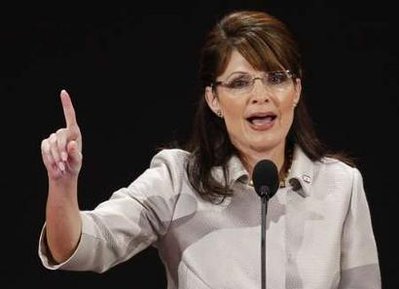 Y'know, after watching Wednesday's RNC festivities, I'm rather annoyed with myself that I titled the post about Tuesday night "Chimps on Parade." I mean, the dismayingly chimpy Dubya notwithstanding, at least Fred Thompson can sometimes muster up the ornery menace of an aging silverback. But it was last night's warm-up act, with also-rans Romney, Huckabee, and Giuliani sneering and snarling with abandon at Obama, "liberals," the "elite media," the home television audience, and just about everything else that crossed their path, that felt like the real flying monkey attack.
Now, I can't say I have my finger on the pulse of the nation or anything, but, in terms of the sheer quantity of vitriol, last night's flurry of bad mojo felt quite a bit to me like Pat Buchanan's disastrous 1992 "Culture War" speech all over again. (The fur flew so thick last night that even the AP felt compelled to mention the blatant untruths today.) We'll see how it plays over the next few days and weeks, of course, but I get a strong sense that the Republicans didn't help their cause much at all last night. (And, if you were to happen to infer that, by calling that ridiculous trio of GOP Pep Boys "flying monkeys," I was implicitly comparing Gov. Palin, who later dripped with similar derision and contempt from her unfortunate sea of black, to Margaret Hamilton, well, that's all on you…sexist.)
At any rate, to, take 'em in their miniboss order…
Mitt Romney: "Is a Supreme Court liberal or conservative that awards Guantanamo terrorists with Constitutional rights?" This one's easy…Douchebag. [Transcript.] Is there anything else one needs to say about the man? It wasn't so long ago even the GOP was united in their dislike of the guy's patent insincerity. But last night, of course, Republicans hooted and hollered through his manifestly idiotic remarks about a "liberal Washington" like he was Don Rickles killing at the Palms. "Is government spending — excluding inflation — liberal or conservative if it doubles since 1980? — It's liberal!" Of course, self-proclaimed conservatives, and darlings of everybody in that room last night, have run the White House for twenty of those twenty-eight years…but you already knew that. "It's time for the party of big ideas, not the party of Big Brother!" Uh…I guess Mitt hasn't been following the news all that much of late, nor did he seem to pre-read his own speech. (See the first quoted sentence above.) I could go on, but you get the point: Douchebag. Let's move on.
Mike Huckabee: "John McCain will follow the fanatics to their caves in Pakistan or to the gates of hell. What Obama wants to do is give them a place setting at the table." Alright, I feel a bit bad for lumping in Huckaboom with the rest of the night's speakers. [Transcript.] He's clearly a smarter, abler politician than 95% of the Republicans out there (even if his weird anecdote about veterans and desks barely made a lick of sense), and his remarks wisely eschewed most of the angry invective that marked all of the other speeches. (His early nod to Obama's candidacy — "Party or politics aside, we celebrate this milestone because it elevates our country" — went over like a lead balloon in the auditorium last night.) Still, even with his friendly, aw-shucks demeanor, Huckabee laid on the finger-pointing pretty thick at times, particularly once he set his sights upon the "elite media, whose "reporting of the past few days has proven tackier than a costume change at a Madonna concert."
Governor Huck probably trod onto the thinnest ice last night when he tried to portray the GOP as the "real" party of poor folk and ordinary working joes. This is wildly implausible for many reasons, not the least because Huckabee himself deemed the Republicans "a wholly-owned subsidiary of Wall Street and the corporations" only a few short months ago. Plus, it's really hard to buy into this sort of "broke-like-us" tripe when Cindy McCain is wearing $300,000 of bling to the big show.
Rudy Giuliani: "For four days in Denver and for the past 18 months, Democrats have been afraid to use the words 'Islamic terrorism.' During their convention, the Democrats rarely mentioned the attacks of Sept. 11, 2001." 9/11, 9/11, 9/11? Mayor Rudy 9iu11iani, it seems, is not above living down to his caricature. Of the three Pep Boy speeches, this is the one that will probably be remembered as the biggest misfire for the GOP. [Transcript.] Even if Romney's was more intellectually dishonest as written, Giuliani's shrill anti-Obama screed was emphatically the most poorly delivered. (Not that Giuliani scrimped on the intellectual dishonesty. See, for example, his resurrection of the hoary "present vote" meme.) For whatever reason — some say pique at his speech being moved — Giuliani came across as even more weaselly and intemperate than usual last night, and — I say this as someone who, despite everything since, gave him much credit for his original handling of 9/11 — Rudy seems weaselly and intemperate on the best of days. In any case, however much it may have fired up the faithful, Hizzoner's rant didn't play at all on TV. (While I'm linking TPM, Josh Marshall got off a great zinger last night: "I think I preferred this speech in the original German.")
And then the main event, Governor Palin. [Transcript.]
Over the past few days, I've refrained from posting every single revelation about the seemingly un-vetted Palin here, partly because I think little is gained by poring over the details of the awkward baby-momma story (even if the hypocrisy of the family values crowd has been stunning), and partly because keeping up with every facet of her creepy-craziness would've consumed the entire week. (If the Enquirer affair story gets locked down next week, that might well get a post here, tho' — as did Edwards' indiscretions. Also, a PSA for any kids who happen to stop by — watch what you write on your MySpace page, y'all. That's one to grow on.)
So, how did Palin attempt to distract us, however briefly, from the fact that she's an unqualified, uninformed, scandal–ridden, pro-life, creationist, secessionist, wolf-massacring, book-banning Buchananite fundie? Well, mainly by channeling Rush Limbaugh for forty minutes: "When the cloud of rhetoric has passed, when the roar of the crowd fades away, when the stadium lights go out and those styrofoam Greek columns are hauled back to some studio lot. When that happens, what exactly is our opponent's plan? What does he actually seek to accomplish after he's done turning back the waters and healing the planet? The answer — the answer is to make government bigger and take more of your money and give you more orders from Washington and to reduce the strength of America in a dangerous world." Uh, yeah. 1988 called…they want their talking points back.
I wish there was more to Palin's coming-out address to recommend it, but 99.44% of her speech was just this sort of smarmy, deeply-negative, over-the-top ridicule for Obama-Biden, delivered for the sole purpose of firing up the tired remnants of the fringe right. (Another case in point: "My fellow citizens, the American presidency is not supposed to be a journey of personal discovery.") Even elements of her biography that I somewhat respect were grossly mismanaged. True, being the cleanest Republican politician in Alaska is kinda like being the world's tallest pygmy — and, as noted above, Palin's hands aren't all that clean anyway. But, still, I'd have respected the Governor more this morning if she hadn't openly lied to us last night about her reform credentials. ("I told the Congress 'thanks, but no thanks' on that bridge to nowhere." — I believe Peggy Noonan has an apt phrase for this kind of blatant falsifcation. For shame.)
Update: "Obama was working for a group of churches that were concerned about their parishioners…They hired Obama to help those stunned people recover and get the services they needed –job training, help with housing and so forth –from the local government. It was, dare I say it, the Lord's work — the sort of mission Jesus preached (as opposed to the war in Iraq, which Palin described as a 'task from God.') This is what Palin and Giuliani were mocking. They were making fun of a young man's decision 'to serve a cause greater than himself,' in the words of John McCain. They were, therefore, mocking one of their candidate's favorite messages." By way of DYFL, TIME's Joe Klein angrily rallies to the defense of community organizers.