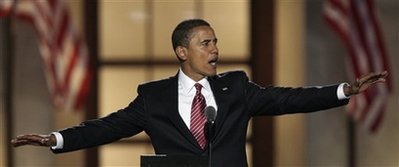 "For eighteen long months, you have stood up, one by one, and said enough to the politics of the past. You understand that in this election, the greatest risk we can take is to try the same old politics with the same old players and expect a different result. You have shown what history teaches us — that at defining moments like this one, the change we need doesn't come from Washington. Change comes to Washington. Change happens because the American people demand it — because they rise up and insist on new ideas and new leadership, a new politics for a new time. America, this is one of those moments."
The end of the evening, of course, featured Senator Obama's historic nomination speech and, as you all already know, he absolutely knocked it out of the park. [Transcript.] As I said in my first post, I thought it "powerful in its can-do faith in America and devastatingly effective in its evisceration of the GOP," and I'll stand by that. In fact, in a week of excellent speeches, I thought our nominee's address was the one that came out on top.
Sen. Obama's speech succeeded on several different levels at once: It worked as a lofty restatement of central American principles and a concise explanation of what differentiates Democrats from Republicans. It provided hard policy details for those ambivalent about the word "change," and it threw red meat to the faithful — and food for thought to the undecideds — by going after John McCain on issues across the board. Speaking of which, Obama's tone toward McCain was note-perfect: Polite enough to the man, Obama was utterly dismissive of his lousy ideas and his endless shilling for Dubya, and he fired a warning shot across his bow about any further attempt to wallow in the usual Republican "patriot games." In fact, Obama's speech preemptively made much of the GOP's usual grab-bag of insinuation and slander, sure to be in full evidence next week in Minnesota, look patently ridiculous. When McCain announced his veep pick yesterday — more on that textbook case of bad judgment in short order — I noticed the podium read "Country First." After Obama's speech last night, that old dog's looking a little lame.
Coming into Thursday night, I thought the best line uttered, in terms of the history books, had come from President Clinton's Wednesday speech: "People the world over have always been more impressed by the power of our example than by the example of our power." (The Ann Richards memorial runners-up: Bob Casey's maverick-sidekick skewering of John McCain on Tuesday, and Al Gore's recycling bit) But Obama's speech was filled with great quotables. For example:
"America, we are better than these last eight years. We are a better country than this."

"[W]e are here because we love this country too much to let the next four years look like the last eight. On November 4th, we must stand up and say: 'Eight is enough.'"
"Senator McCain likes to talk about judgment, but really, what does it say about your judgment when you think George Bush has been right more than ninety percent of the time? I don't know about you, but I'm not ready to take a ten percent chance on change."
"Now, I don't believe that Senator McCain doesn't care what's going on in the lives of Americans. I just think he doesn't know…It's not because John McCain doesn't care. It's because John McCain doesn't get it."
"For over two decades, he's subscribed to that old, discredited Republican philosophy – give more and more to those with the most and hope that prosperity trickles down to everyone else. In Washington, they call this the Ownership Society, but what it really means is – you're on your own."
"Washington's been talking about our oil addiction for the last thirty years, and John McCain has been there for twenty-six of them."
"If John McCain wants to have a debate about who has the temperament, and judgment, to serve as the next Commander-in-Chief, that's a debate I'm ready to have."
"John McCain likes to say that he'll follow bin Laden to the Gates of Hell – but he won't even go to the cave where he lives."
"We are the party of Roosevelt. We are the party of Kennedy. So don't tell me that Democrats won't defend this country. Don't tell me that Democrats won't keep us safe. The Bush-McCain foreign policy has squandered the legacy that generations of Americans — Democrats and Republicans – have built, and we are here to restore that legacy."
"I've got news for you, John McCain. We all put our country first."
"What the nay-sayers don't understand is that this election has never been about me. It's been about you."
"And it is that promise that forty five years ago today, brought Americans from every corner of this land to stand together on a Mall in Washington, before Lincoln's Memorial, and hear a young preacher from Georgia speak of his dream. The men and women who gathered there could've heard many things. They could've heard words of anger and discord. They could've been told to succumb to the fear and frustration of so many dreams deferred. But what the people heard instead — people of every creed and color, from every walk of life — is that in America, our destiny is inextricably linked. That together, our dreams can be one. 'We cannot walk alone,' the preacher cried. 'And as we walk, we must make the pledge that we shall always march ahead. We cannot turn back.' America, we cannot turn back."

And so on. What's more, Obama's speech wasn't only a address for progressives, but a progressive address. It didn't just offer up a litany of policies and goodies aimed at buying off consumer-voters (tax cuts and free prescription drugs for all!), but called Americans to rally to their individual and collective responsibilities as citizens of the republic. It didn't talk much of rights and choices, as contemporary liberalism so often does, but emphasized "the American promise" as a shared ideal that binds us all together. He didn't get bogged down in the soul-deadening, technocratic rhetoric of policy proposals, but used American history and "the American spirit" as the unifying narrative and common tapestry of our entire national community. When it came to our most divisive and contentious issues — abortion, gay marriage, immigration — Obama's speech didn't just pick a side and lob grenades at the cultural opposition, but tried to engage and draw out principled conservatives onto neutral ground, without compromising on the positions themselves.

I've made the case several times here that, for whatever reason (in part, I think, his background in community organizing — Jane Addams came to similar conclusions in her own time on the streets of Chicago; for another, I think the progressive ideals of the Social Gospel have survived better in the African-American church than they have in our secular democratic politics), Sen. Obama seems to understand and call back to real progressivism like no other presidential nominee we've had since RFK. This, thankfully, hasn't been lost in the move toward the general election.

So, in other words, I loved the speech. And, as I said the other day, actually being at Invesco Field for its delivery was an experience I'll never forget. I know some people may just find this naive, but after listening to Obama on Thursday night, and after living through all the corruption and incompetence of the last eight years, I refuse to imagine an America that would in good conscience pick John McCain and everything he represents over Barack Obama in two months. That is not my country — We are better than that, and we cannot and will not turn back.