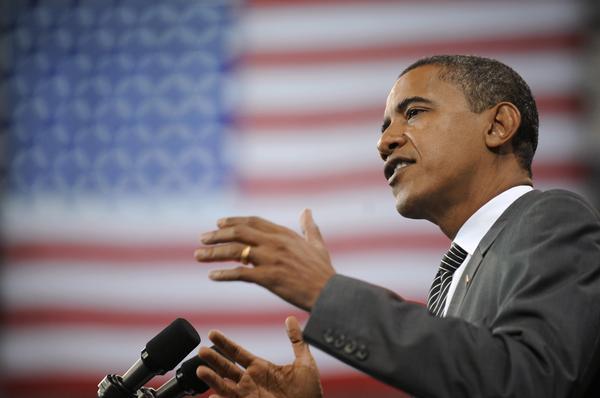 So, here we are at last. After the interminable Democratic primary, the mile-high heights of Denver, the RNC's sputtering lows, all the ignominious Palin follies, and the ugly throes of conservative crack-up we've witnessed over the past month or so, it's at long last decision time.
Not that it's going to be any big surprise to you, but I myself will be voting for Senator Barack Obama of Illinois, for the reasons I listed back in January and for many others, and I strongly encourage you to do the same.
Of course, voting for Obama tomorrow is a much easier call than choosing among the Democratic field a year ago. If any undecided voters actually swing by GitM (a proposition I highly doubt), well, all you really need to know right now is this:
We are where we are today, be it in Iraq, on Wall Street or anywhere else, as a consequence of eight years of Dubya's leadership.
John McCain voted to support George W. Bush 90% of the time.
That's it. End of story. If you think Dubya was right 90% of the time, that everything from the wars in Iraq and Afghanistan to the tragedy of Hurricane Katrina to the sub-prime mortgage meltdown to national embarrassments such as Gitmo and Abu Ghraib were handled smoothly — heck, even competently — by this administration, then John McCain is your man. If you don't, then you should vote Obama.
Similarly, if you think Congress should spend more time pursuing the interests of immensely wealthy corporations and K-street lobbyists rather than representing the American people, that criminals like Duke Cunningham, Boss DeLay, and "Casino Jack" Abramoff should be allowed to plunder the nation's coffers for personal gain, and that the House and Senate should really be devoting their time to such all-consuming issues as flag burning and the fate of poor Terri Schiavo, then you should vote Republican. If, on the other hand, you want to finally move past all that, and help see real change enacted in this country under a President Obama, then you should vote for your Democratic House and Senate candidates, as I plan to.
Now, of course, I myself would take it farther than that. Y'see, I personally don't believe that conservatism works as a governing philosophy — it never has, and it never will. You wouldn't ask a vegetarian to prepare you a steak, and you don't hire someone who despises government and/or sees it only as his personal bankroll to run a country for you. Unlike the faith-based arguments of all too many Republicans out there, I'd submit that we've got almost two decades of data now to back this assertion up. But, you don't have to take it that far, if you don't want to — Just look at the record of the last eight years, and that should help clarify who to vote for tomorrow.
As for McCain himself, well, I confess, I'm disappointed in the man. If we'd seen the candidate who ran in 2000, the one who deplored all the right-wing pettiness, racism, and wingnuttery he's now wallowing in, we might've had the first win-win choice for president since…I dunno, Woodrow Wilson and Charles Evans Hughes in 1916? (Update: Upon more reflection, I'll say since Ike and Adlai in '56.) But, the Saruman analogy holds here too. In pursuit of power, McCain turned from that path a long time ago — he enabled the Dubya administration in its idiocies, he began to coddle the hardcore right-wing fundies rather than stand up to them, he sold out his own campaign finance reform stance, and he even started to traffick in the same lowest-common-denominator, Rovian filth that was used to bring him low in South Carolina eight years ago. His choice of Sarah Palin for veep, so pathetically craven in its attempt to appease the stark raving fundies and grab disgruntled Clinton voters, was merely the cherry on top.
In short, when the worst impulses of right-wing gutter politics came a-knockin' at his door, John McCain — for whatever reason — blinked, and completely caved to their onslaught. In this election campaign, he has put His Own Ambition First, and in so doing, he has sold his soul. For the choices he's made during this election season alone, John McCain has lost any credibility he might've had to serve as our nation's commander-in-chief.
Fortunately, I firmly believe that, after tomorrow, John McCain and the sad, tired remnants of his cause will be old news. We have an exemplary, once-in-a-generation-type candidate in Barack Obama, and I refuse to believe I live in a country that would squander the amazing opportunity before us to elect him our president.
But, you never know… So, yes, the polls look great, but they looked good in 2004 as well (even the exit polls did, in fact), and we all know how that story turned out. So, let's handle our business tomorrow, get out to vote, and get to work on rebuilding this country. We have so much work to do.
Vote Obama, 2008.