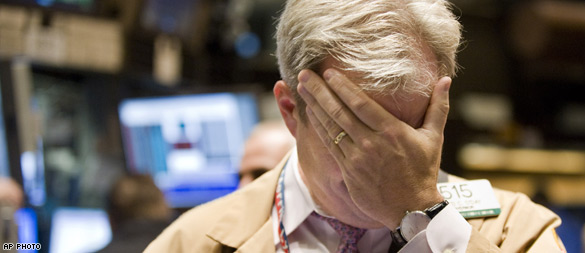 "
'Today's the decision day. I wish it weren't the case,' said Rep. Barney Frank (D-Mass.).
" Despite the apparent
attempt by divider-not-a-uniter John McCain to kill a compromise
he
hadn't even read
last week, the Dubya White House and Congress
hold their respective noses
and
come to agreement on Paulson's $700 billion bailout plan
, with debate in the House starting today. "
The proposed legislation would authorize Treasury Secretary Henry M. Paulson Jr. to initiate what is likely to become the biggest government bailout in U.S. history, allowing him to spend up to $700 billion to relieve faltering banks and other firms of bad assets backed by home mortgages, which are falling into foreclosure at record rates. The plan would give Paulson broad latitude to purchase any assets from any firms at any price and to assemble a team of individuals and institutions to manage them.
"
As I said here, I'm not all that happy about the nation having to subsume the risk, and ride to the rescue of, the many banks and Wall Street types that profited massively from these obviously suspect mortgage deals. But, what else is there to do? As with so much else occurring over the past eight years, it befalls us now to clean up the mess left by the free market fundies of late. I just hope we learn something from the economic consequences of this latest binge of free-market fraudulence, before they grow too dire. To wit, whatever the corporate-funded right tells you about self-regulating markets, we need, and will continue to need, real refs on the field.
Update: Uh oh. The bailout compromise dies in the House, prompting the Dow Jones to swiftly tank 700 points. "The measure needs 218 votes for passage. Democrats voted 141 to 94 in favor of the plan, while Republicans voted 65 to 133 against. That left the measure with 206 votes for and 227 against."
As the TIME article linked above noted before the vote, "the candidate with the most riding on Monday's vote is McCain, who backed the concerns of conservatives in the House over the initial agreement…[I]f a majority of the House Republicans don't vote for the measure, McCain could lose political face. 'If McCain cannot persuade them, it is hard to portray him as a leader,' said Clyde Wilcox, a political science professor at Georgetown University." So, that's the silver lining, I guess. But the bad news now, alas, is considerably worse.