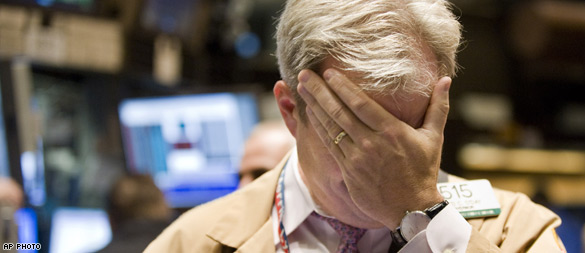 "
'Today's the decision day. I wish it weren't the case,' said Rep. Barney Frank (D-Mass.).
" Despite the apparent
attempt by divider-not-a-uniter John McCain to kill a compromise
he
hadn't even read
last week, the Dubya White House and Congress
hold their respective noses
and
come to agreement on Paulson's $700 billion bailout plan
, with debate in the House starting today. "
The proposed legislation would authorize Treasury Secretary Henry M. Paulson Jr. to initiate what is likely to become the biggest government bailout in U.S. history, allowing him to spend up to $700 billion to relieve faltering banks and other firms of bad assets backed by home mortgages, which are falling into foreclosure at record rates. The plan would give Paulson broad latitude to purchase any assets from any firms at any price and to assemble a team of individuals and institutions to manage them.
"
As I said here, I'm not all that happy about the nation having to subsume the risk, and ride to the rescue of, the many banks and Wall Street types that profited massively from these obviously suspect mortgage deals. But, what else is there to do? As with so much else occurring over the past eight years, it befalls us now to clean up the mess left by the free market fundies of late. I just hope we learn something from the economic consequences of this latest binge of free-market fraudulence, before they grow too dire. To wit, whatever the corporate-funded right tells you about self-regulating markets, we need, and will continue to need, real refs on the field.
Update: Uh oh. The bailout compromise dies in the House, prompting the Dow Jones to swiftly tank 700 points. "The measure needs 218 votes for passage. Democrats voted 141 to 94 in favor of the plan, while Republicans voted 65 to 133 against. That left the measure with 206 votes for and 227 against."
As the TIME article linked above noted before the vote, "the candidate with the most riding on Monday's vote is McCain, who backed the concerns of conservatives in the House over the initial agreement…[I]f a majority of the House Republicans don't vote for the measure, McCain could lose political face. 'If McCain cannot persuade them, it is hard to portray him as a leader,' said Clyde Wilcox, a political science professor at Georgetown University." So, that's the silver lining, I guess. But the bad news now, alas, is considerably worse.
So, apparently Rep. Chris Cox (R-CA), Dubya's new pick to head the SEC, is — wait for it — yes, yet another right-wing freakshow, this time of the corporate stooge variety. "Mr. Cox – a devoted student of Ayn Rand, the high priestess of unfettered capitalism – has a long record in the House of promoting the agenda of business interests that are a cornerstone of the Republican Party's political and financial support. A major recipient of contributions from business groups, the accounting profession and Silicon Valley, he has fought against accounting rules that would give less favorable treatment to corporate mergers and executive stock options. He opposes taxes on dividends and capital gains. And he helped to steer through the House a bill making investor lawsuits more difficult."
"So what does the bill do? It makes it harder for average people to file for bankruptcy protection; it makes it easier for landlords to evict a bankrupt tenant; it endangers child-support payments by giving a wider array of creditors a shot at post-bankruptcy income; it allows millionaires to shield an unlimited amount of equity in homes and asset-protection trusts; it makes it more difficult for small businesses to reorganize while opening new loopholes for the Enrons of the world; it allows creditors to provide misleading information; and it does nothing to rein in lending abuses that frequently turn manageable debt into unmanageable crises. Even in failure, ordinary Americans do not get a level playing field." Salon's Arianna Huffington ably dissects the GOP bankruptcy legislation currently making its way through Congress. Update: It passes the Senate, with the help of 18 Dems. For shame.
"'The large deficits and apparent inability of Republicans to constrain spending has made it impossible for sensible folks to advocate' big tax cuts, said Kevin A. Hassett of the conservative American Enterprise Institute. 'Sooner or later. government has to pay for everything.'" In the face of rampant Dubya deficits, the GOP strains toward a moment of clarity and takes further tax cuts off the table for the time being. (Indeed, to the dismay of Grover Norquist, some Republican Senators, including Lindsey Graham (R-SC), are even considering raising taxes.) Reality bites, doesn't it?
By way of Follow Me Here, the chief economist at Morgan Stanley warns private audiences that, in his opinion, the US is headed for economic "Armageddon." "In a nutshell, Roach's argument is that America's record trade deficit means the dollar will keep falling. To keep foreigners buying T-bills and prevent a resulting rise in inflation, Federal Reserve Chairman Alan Greenspan will be forced to raise interest rates further and faster than he wants. The result: U.S. consumers, who are in debt up to their eyeballs, will get pounded."
Faced with the grim morning-after receipts of Dubya's feckless splurging and deficit-exploding tax cuts, the Senate is forced raise the debt limit by $800 billion (again) to stop the government from going into default. "Though an increase in the debt ceiling was never in doubt, Republican leaders in both houses of Congress postponed action on it last month, until after the elections, to deprive Democrats of a chance to accuse them of fiscal irresponsibility."
The dollar tanking? No problemo for this administration, who see a weak dollar as key to offsetting our ballooning trade deficits. "The unsettling worry, however, is what could happen if foreigners suddenly lost interest in holding dollar-denominated investments. The outward rush from U.S. stock and bond markets could send stock prices crashing and interest rates soaring." Well, at least my college loan debt isn't in Euros.