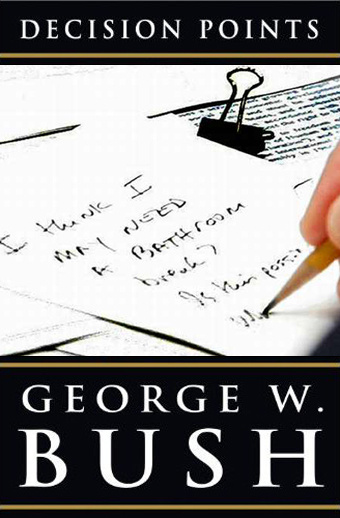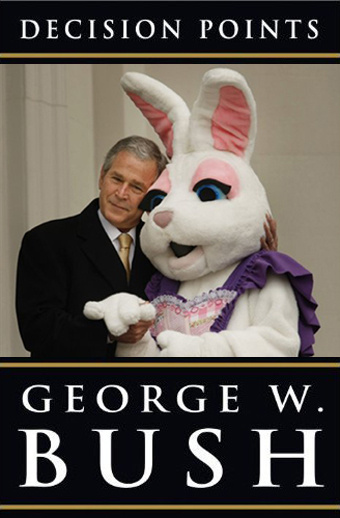 "Decision Point: Is it a good idea for me to land on an aircraft carrier in a flight suit with a sign that says 'Mission Accomplished'? Key Decision: How is it not a good idea?" On the announcement that former President Bush's forthcoming memoirs will be called, um, Decision Points, the wags at the Gawker crime lab have some fun with Photoshop. (Speaking of decision points, I will concede that it's very smart of the GOP powers-that-be to wait until the week after Election Day to remind America of the Dubya years.)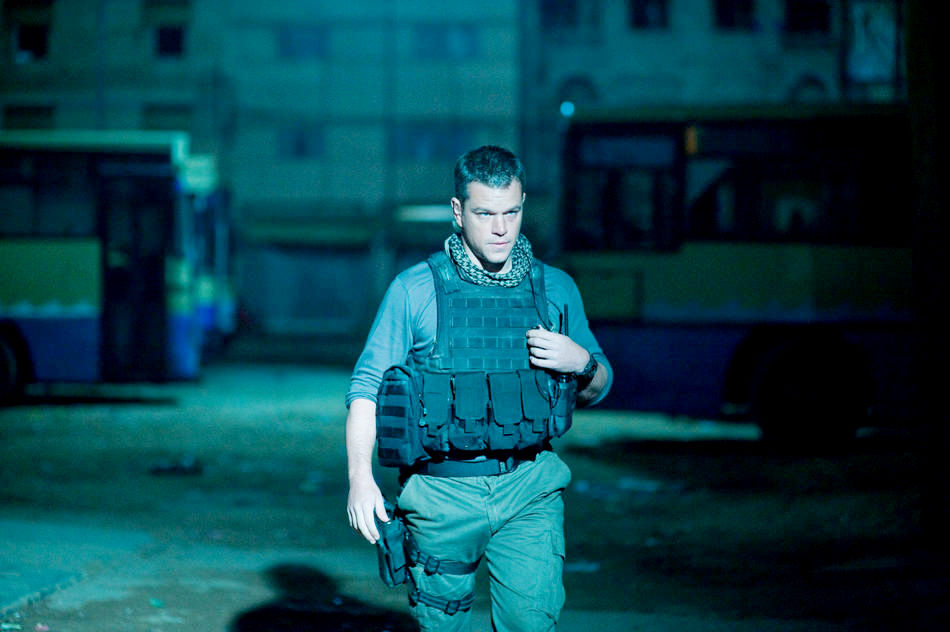 On
this St. Patrick's Day
, what better recent release to discuss here at GitM than
Paul Greengrass' Green Zone
? Not only do we have two shades of emerald in that last sentence, but we're now on the cusp of the 7th anniversary of the
beginning of the War in Iraq
. (It broke out, I well remember, just as I was
heading to a March Madness weekend in Vegas
.) Alas, I just wish I had a better
sitrep
to report.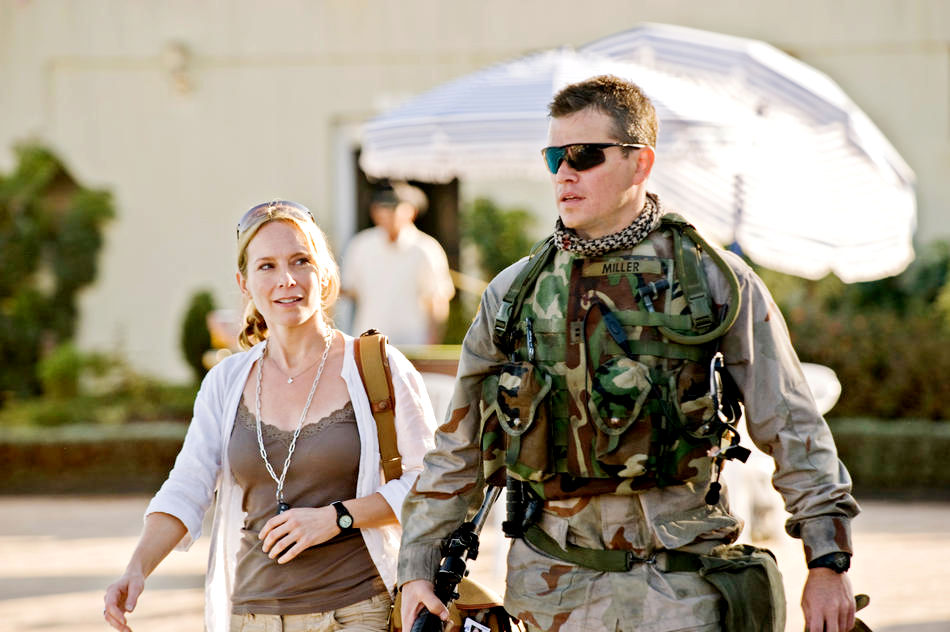 I don't mean to be too harsh — There's nothing terribly wrong with this edutainment-y attempt to explain de-Baathification, highly dubious detainee procedures, and most notably the faked WMD casus belli to disinterested laypersons by way of action-thriller. And, in a way, I sorta admire the gutsiness of the the attempt. But, if you were already well aware of these grim developments, and I assume most GitM readers are, then it's hard to escape the sensation that one is mainly just being talked down to for two hours. Wait, there were no WMD in Iraq? You're kidding me, right? And, while I'm a great fan of Greengrass' previous output — I said over and over again in this space that I wish he had stuck with Watchmen, and on the Top 100 films of last decade list, Bloody Sunday was #84, his two Bournes were at #49, and the exemplary United 93 was at #6 — The Green Zone feels quite a bit more leaden than usual.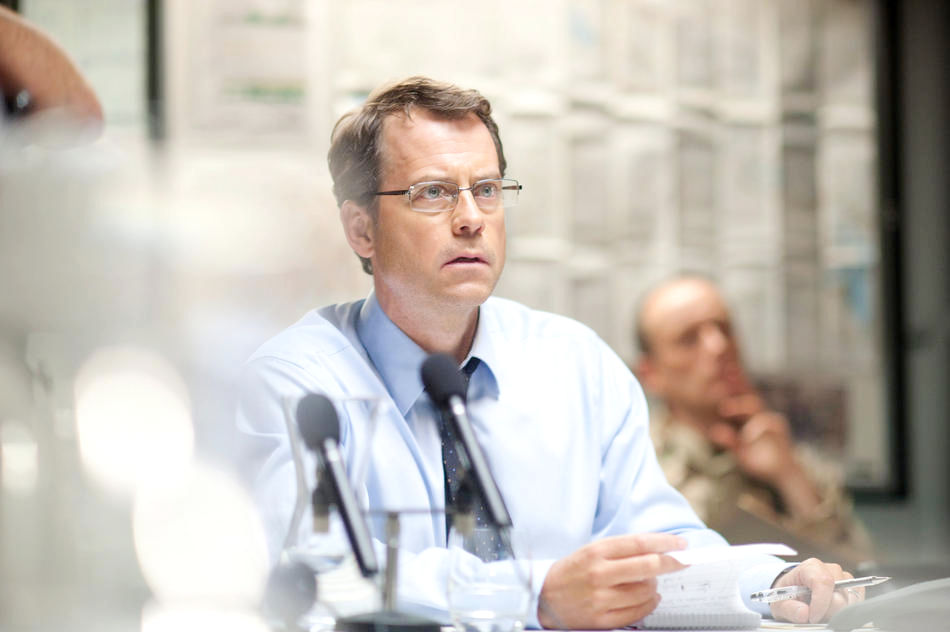 As with the political edutainment project Greengrass aspired to here, I like the idea of fusing his highly visceral action work (the Bournes) with his fly-on-the-wall discursions into recent history (Sunday, '93)…on paper. But The Green Zone gets lost somewhere in the interstice, and lacks the gripping power of either of these previous Greengrass grooves. Instead, Zone ends up mostly being two grainy hours of watching Matt Damon run around at night, as he tries to uncover an insidious government plot that our nation has been fully aware of for years…and has chosen to greet with a yawn.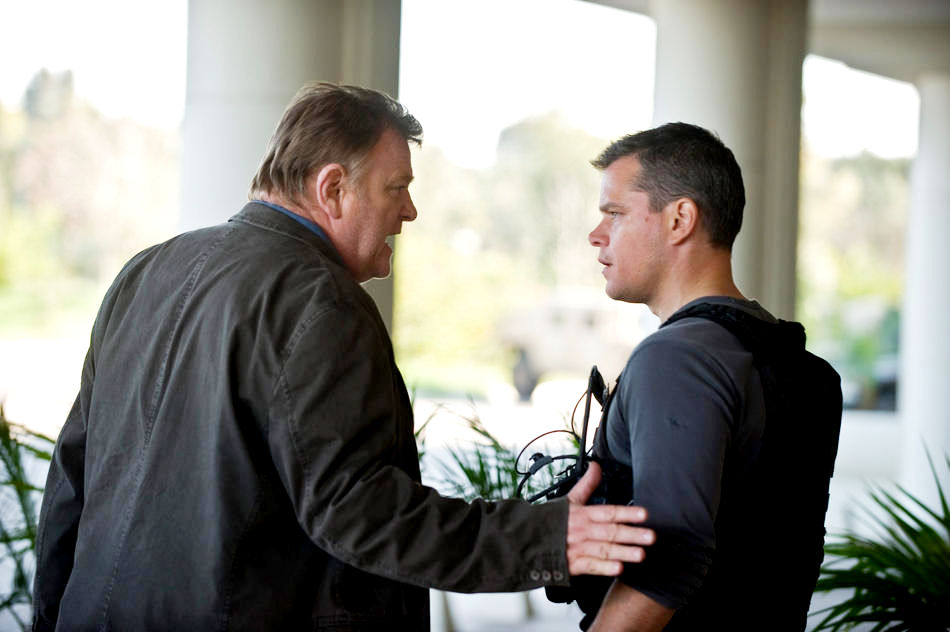 More on that depressing problem in a bit, but, first, to bring y'all up to speed: Loosely based on Rajiv Chandrasekaran's Imperial Life in the Emerald City, a non-fiction examination of Dubyaite imbecility and excess in post-war Baghdad, Green Zone begins with a brief sequence set amid the original Shock-and-Awe period of the war, followed by, a few weeks later, a tense raid on a possible WMD storehouse by American soldiers. Led by Chief Warrant Officer Roy Miller (Damon), this crack MW2-ish assault ends up finding, well, bupkis, just like the time before and the time before that.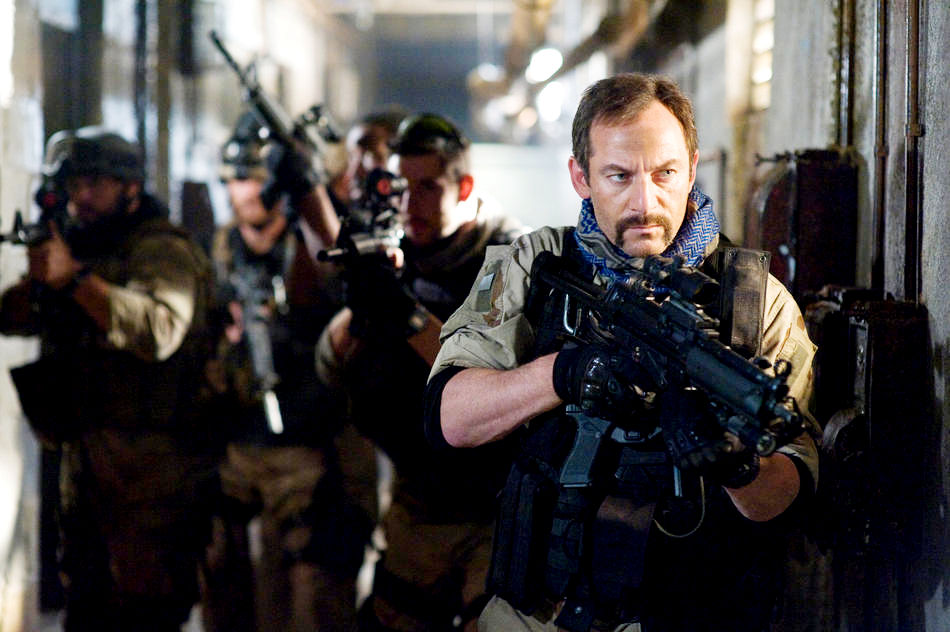 To Chief Miller, the problem here is obvious — the intel must be rotten. But, when he brings this up at the next briefing for high-level military muckety-mucks, he is basically told to shut up and do his job. Nonetheless, events soon conspire to introduce Miller to the "Jack of Clubs" in the Dubya deck, a Baathist general (Yigal Naor) with a still-clearly extant power base in Baghdad. And, when our hero digs deeper to figure out how this Jack might know "Magellan," the top-secret source of all this lousy intel, he soon finds himself trapped — along with a very Judith Miller-y reporter (Amy Ryan) — in a power play between a slimy executive branch bureaucrat (Greg Kinnear, stuck no more) and a grizzled CIA hand (Brendan Gleeson), one that might just end up getting Miller fragged by the creepy Special Forces guy (Jason Isaacs, with great accent) who keeps popping up…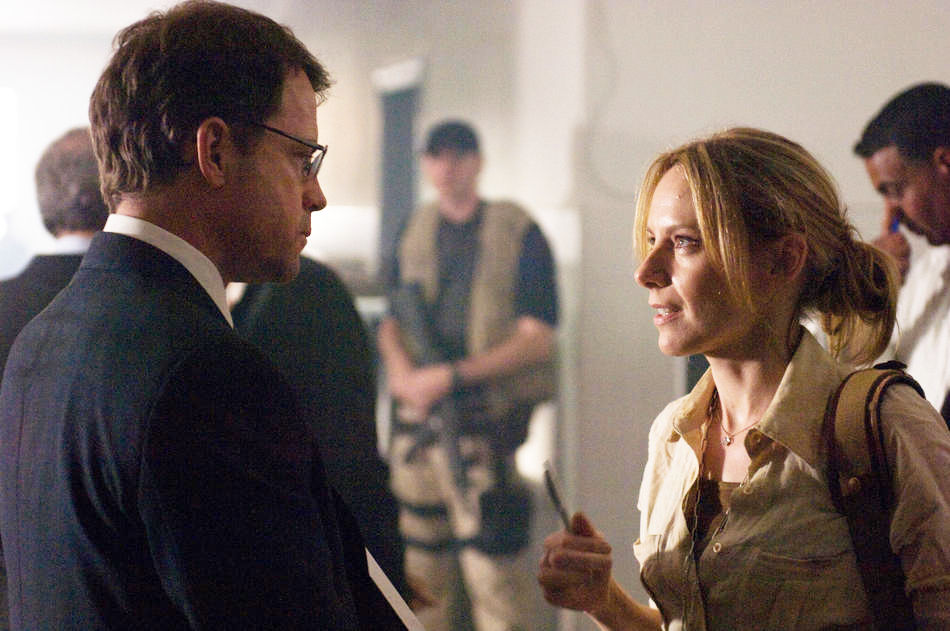 Along the way, there's a digression into a detainee facility with all the makings of an Abu Ghraib waiting to happen, the tearful homecoming of the administration's hand-picked Iraqi stooge (re: Ahmed Chalabi), some rather pained attempts to make the decision to de-Baathify an action beat…In other words, Green Zone is basically an attempt to dramatize the Iraq war for people who, for whatever reason, weren't paying much attention the first time 'round. And, to be fair, it's done with solid acting all around (including several folks recognizable from United 93), quality production values, and a reasonable degree of versimilitude throughout. (Note also the brief Paul Rieckhoff cameo, which should nip any IAVA whining about dramatic license right in the bud.)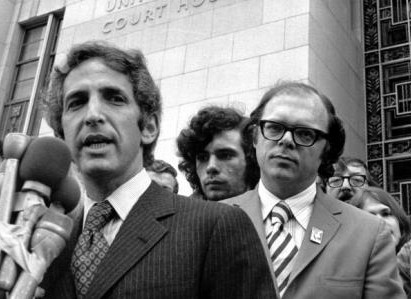 But, for all its edutainmenty truths to tell, Green Zone still ends up feeling rather fake and film-ish to me, perhaps in part because — unlike Greengrass' other recent histories — it seems to subscribe to a very movie-like All the President's Men view of things, where, once word of misdeed gets out, justice will be done tho' the heavens fall. Not to get all Debbie Downer up in here, but that's not really the way the world works anymore, is it? One of the saddest and scariest moments in the recent and very worthwhile Daniel Ellsberg: The Most Dangerous Man in America is when Ellsberg explains how he thought everything would change once the Pentagon Papers got out…and then he finds that, in the face of clear and irrefutable evidence of government wrongdoing, most people just shrugged.
This is the uncomfortable horror that Green Zone almost seems willfully designed not to recognize. The whole premise of the movie seems to be that, if We the People knew what really went down in Iraq (or could just be taught via action-movie), we would be totally livid about the corruption involved. But, is the problem really that the American people don't know what happened in the build-up to Iraq? Or is it that we know pretty well what happened and don't much seem to care?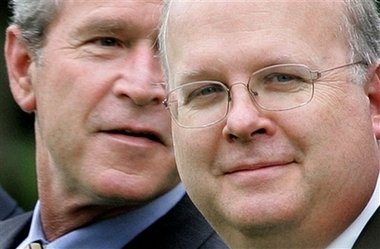 Just as with our indefensible dabbling in torture and indefinite detention in recent years, we have known about the lies and incompetence that fueled the Iraq fiasco for awhile now. And, alas, nothing ever happened. Dick Cheney, Karl Rove, and the whole awful, lying lot are still deemed Serious People with Serious Opinions by the nation's domesticated media watchdogs, who, by the way, have also been studiously ignoring the Blair hearings overseas. Our current president, elected with the largest mandate for change in a generation, has deemed all of this just the sins of the past and refused to "look backward" (or worse, made himself complicit in these Dubya-era crimes.) And life continues, much as it has this past age, with no sense of reckoning whatsoever for the Big Lies that were told.
One of the main reasons Bloody Sunday and United 93 work so well is that they offer complex, nuanced portraits of complicated times. But, as Green Zone moves along, it just ended up feeling more and more like a cartoon to me, and one predicated mainly on wishful thinking. Like I said, I guess I admire what Paul Greengrass & co. were trying do here, but Green Zone as an action film feels flat and mostly uninvolving. And Green Zone as a political enterprise — Iraq War: The Movie!, basically — often seems at best condescending and at worst dangerously naive.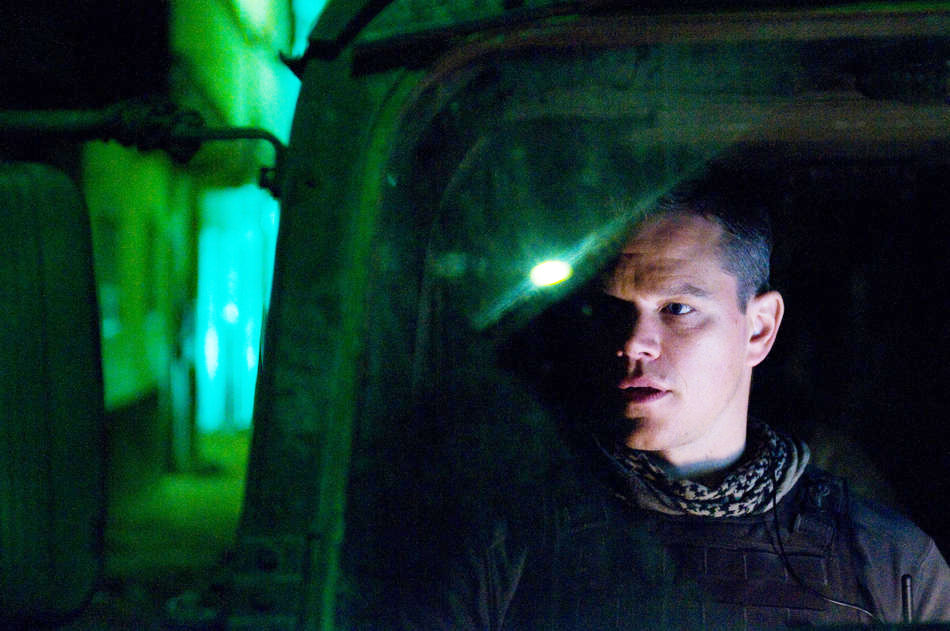 z'[W]ith Reagan, the prophecy appreciation part of his brain functioned quite independently of the part that started wars (there's nothing in the Old Testament about Nicaragua or even Grenada). Bush seems to have taken the threat of Gog and Magog to Israel quite literally, and, if this story can be believed, to have launched a war to stop them."
One rather frightening story from a few days ago: As if the recent "Onward Christian Soldiers" war reports in GQ weren't Crusadery enough, it appears that Dubya explictly invoked the End of Days to convince Jacques Chirac to get involved in the Iraq War, making his appeal Christian-to-Christian about the unholy dangers of Gog & Magog. Uh, really? (Apparently, Chirac has confirmed it.)
"This evening, my thoughts return to the first night I addressed you from this house – Sept. 11, 2001." Now, there's a surprise. To be honest, there's not much to be said about Dubya's dismal farewell speech last night, which had been touted earlier in the week as potentially something interesting. [Transcript.] Rather than go the statesman route a la Eisenhower, Dubya chose to spend his last few moments with the nation's ear dispensing trite, self-serving, and patently idiotic bromides about the world that will do nothing to alter his status in history as one of our worst presidents, if not the worst president, to-date.
I hope to spend very little blog-time in the future attempting to parse the immature, inchoate worldview of this soon-to-be ex-president. But, for example: "When people live in freedom, they do not willingly choose leaders who pursue campaigns of terror." Uh, they don't? (No, then it's called regime change. [rimshot].)
By the way, was America not "free" in the eighteenth and nineteenth centuries, or were Andrew Jackson, John C. Calhoun, and other duly-elected architects of ugly institutions like indian removal and slavery all just part of ye old axis of iniquitye? Now, put your keyboards down, crazy right-wing Freeper-types. (How'd you end up here anyway?) I'm not arguing that the U.S. is evil — I love America (I just hate flag pins.) But I am arguing that it's never been satisfactorily proven by world events that ostensibly freedom-loving people aren't capable of horrible atrocities from time to time.
This is the same ridiculous note Dubya struck constantly in his second inaugural ("Freedom, yeah!"), and it still rings false. When people live in freedom, they can willingly choose anything they want, including paths and policies deeply at odds with the direction we — or even common humanity — might want them to go. News flash: Dubya's windbreaker-clad nemesis, Mahmoud Ahmadinejad, is — along with being a certifiable, Holocaust-denying nutjob — the freely-elected president of Iran. So let's stop pretending that the introduction (or imposition by force) of a western-style democracy to a region is a sudden and immediate cure-all for that area's problems. Even after eight years in the world's most powerful office, Dubya once again showed us last night that he harbors the black-and-white, absolutist worldview of a child…or an ex-alcoholic. Good riddance.
Update: See also DYFL on this Dubya chestnut last night: "Murdering the innocent to advance an ideology is wrong every time, everywhere. Um, yeah.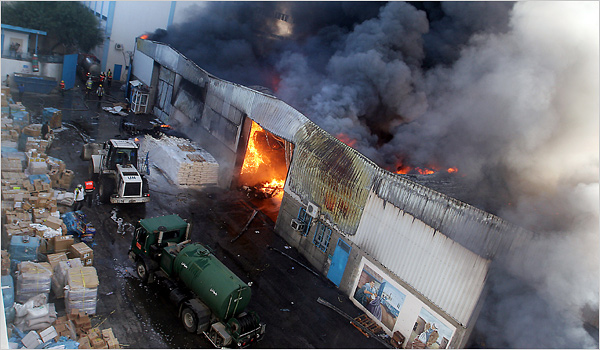 Speaking of
those ostensibly terror-despising free peoples, I haven't written here
on the depressing situation in Gaza
, but friend and colleague
Liam of sententiae et clamores
concisely and elegantly summed up my basic sentiment toward recent events
the other day
: "
it seems that almost all the discussion and reporting on the issue is one-sided and simplistic. Let me state my position: I am pro-Israeli and pro-Palestinian, anti-Hamas and against current Israeli policy. I oppose what the Israeli government is doing now in the same way I opposed my own government's war against Iraq: not only is it immoral, heartless, and cynical, but actually increases the long-term security problems for Israel, much like our invasion of Iraq has weakened our own security situation.
"
Given what little I know about what's going on, that's basically my view of it as well. On the one hand, Israel is responding to an untenable security situation — Hamas rockets being fired into neighborhoods and cities — that we wouldn't tolerate for a second. (In fact, we invaded Iraq on a much flimsier security pretext.) Still, it's hard to shake the feeling that Israel is trying to run the table right here right now, in the twilight moments of the Dubya presidency, because they know they have carte blanche from 43 to do what they will. And I suspect this particular neocon-run advance, like all the rest of 'em in recent years, is doomed to failure — if anything, I'd wager, it's just swelling the ranks (and the coffers) of Hamas.
Regardless, the Obama administration and Secretary of State Clinton are going to have their work cut out for them. I'm not one who believes particularly that conflicts with roots in millennia-long religious strife can get "solved" in one or two US presidential terms. But let's at least hope, under their watch, we can start to achieve the type of broader range of discussion about the Israeli-Palestinian conflict that you can find in…say, Israel. It's both embarrassing and extremely counterproductive for our nation to be seen — and to continually be used — as a knee-jerk diplomatic dupe that will always blindly support policies initiated by the most conservative factions in Israeli politics.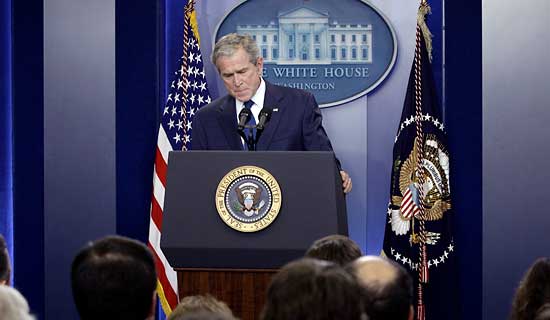 "I have often said that history will look back and determine that which could have been done better, or, you know, mistakes I made. Clearly putting a 'Mission Accomplished' on a aircraft carrier was a mistake. It sent the wrong message. We were trying to say something differently, but nevertheless, it conveyed a different message. Obviously, some of my rhetoric has been a mistake. I've thought long and hard about Katrina — you know, could I have done something differently…"
After eight long years, the end is in sight, and the Idiot Wind is at long last subsiding. For the 43rd president of these United States, George Dubya Bush, gave his final press conference today, during which he finally conceded that "there have been disappointments." Why, yes, yes, there have. "Abu Ghraib obviously was a huge disappointment during the presidency. Not having weapons of mass destruction was a significant disappointment. I don't know if you want to call those mistakes or not, but they were — things didn't go according to plan, let's put it that way." Um, yeah.
At any rate, don't worry: I'm sure we'll be getting one last round of 9/11, 9/11, 9/11 before closing time, when Dubya delivers his "farewell address" on Thursday. One can only hope that it turns out to be Eisenhoweresque, and not one more final, futile attempt to rewrite the history books. But I'm not keeping my fingers crossed.
"We hope the new vice president will not reverse his commitment to the Senate's constitutional authority." Uh, the new one? What about the old one? First it was Karl Rove discovering the virtues of executive transparency. Now the walrus and the carpenter of Dubya apparachiks, Johns "Bomb Iran" Bolton and "Torture at will" Yoo respectively, actually have the temerity to sing the praises of congressional oversight in foreign policy. "If Mr. Obama were to submit either of these agreements for approval by a simple majority of the House and Senate, his actions would pose a serious challenge to American principles of law and democratic governance." Oh, a "serious challenge" to law and democracy, eh? These assholes have no shame.
"I didn't know what the guy said, but I saw his sole." Say what you will about the 43rd president — and, no doubt, the history books will — the man has cat-like reflexes for his age. The story of the weekend was, of course, the shoe incident in Baghdad, which ended up clearly overshadowing Dubya's remarks and reason for his visit — the signing of a Status of Forces agreement — and serving as an exclamation point of sorts for the president's, shall we say, fraught relationship with the nation and people of Iraq. I have to give him credit, tho' — Bush not only handled the incident with agility, aplomb and a surprising amount of sang-froid, but generally struck the right tone about it afterward. "Okay, everybody calm down for a minute. First of all thank you for apologizing on behalf of the Iraqi people. It doesn't bother me. And if you want some — if you want the facts, it's a size 10 shoe that he threw. (Laughter.) Thank you for your concern, do not worry about it."
In the wake of the biggest shoe-related world incident since Nikita Khrushchev (or perhaps Richard Reid), there's been some discussion of late about the legitimacy of shoe-throwing as a form of political protest. (Throwing shoes into machines, a.k.a. "sabot-age," is already generally considered a no-no.) It's not hard to understand, or even empathize with, the anger that drove Muntadar al-Zaidi to this act of protest. Here's a journalist who's been covering airstrikes and Abu Ghraib, who has seen the "collateral damage" of this war-of-choice firsthand, and who himself was briefly arrested by American security forces at one point. That being said, to my mind, any attempted act of physical violence against the president — even something as seemingly innocuous as shoe-throwing — cannot be countenanced. Now, I'm not saying the guy needs to rot in jail for the rest of his life — far from it — but let's not start pretending that that this form of protest is "ok." It's not. End of story.
Plus, keep in mind that a horrible situation was averted by Bush here just by his underreacting estimably to the incident. I don't think it's a stretch to think that al-Zaidi may have put his life in danger by making a threatening lunge at the president. The Secret Service are — and have to be — a hair-trigger bunch. Ok, al-Zaidi was only armed with a shoe…anybody ever heard of Amadou Diallo? All too often, tragedy results from a simple misunderstanding of intentions. Mr. al-Zaidi made his point, no doubt…but it was still a stupid and dangerous stunt, by any reckoning.
And besides, It's all fun and games until somebody loses an eye.