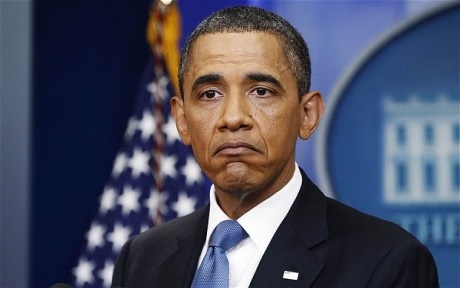 "The task facing the makers of the Obama museum, however, will be pretty much exactly the opposite: how to document a time when America should have changed but didn't. Its project will be to explain an age when every aspect of societal breakdown was out in the open and the old platitudes could no longer paper it over — when the meritocracy was clearly corrupt, when the financial system had devolved into organized thievery, when everyone knew that the politicians were bought and the worst criminals went unprosecuted and the middle class was in a state of collapse….It was a time when every thinking person could see that the reigning ideology had failed, that an epoch had ended, that the shitty consensus ideas of the 1980s had finally caved in — and when an unlikely champion arose from the mean streets of Chicago to keep the whole thing propped up nevertheless."
In Salon, Thomas Frank laments the wasted opportunity of the Obama years. "Why, the visitors to his library will wonder, did the president do so little about rising inequality, the subject on which he gave so many rousing speeches? Why did he do nothing, or next to nothing, about the crazy high price of a college education, the Great Good Thing that he has said, time and again, determines our personal as well as national success? Why didn't he propose a proper healthcare program instead of the confusing jumble we got? Why not a proper stimulus package? Why didn't he break up the banks? Or the agribusiness giants, for that matter?"
Frank's piece is definitely a bit overwritten, with its "mausoleum of hope" and all. That being said, I'm on board with his central thesis, as I've said several times before. (In fact, I was glad to see when fixing the old archives lately, that however hopey-changey I felt in 2008, I was more measured in my writing than I remembered, bringing up the ominous example of Herbert Hoover in my post-election post and wondering what the heck was going on within two weeks of Obama's inauguration.)
Also, to get a sense of what a bad place our party is at these days, just look at Kevin Drum's ridiculous response to this Tom Frank piece. Drum, mind you, is the official blogger of Mother Jones, named after the famous labor leader. And he writes: "It's easy to recognize this as delusional…Because — duh — the hated neoliberal system worked. We didn't have a second Great Depression. The Fed intervened, the banking system was saved, and a stimulus bill was passed…As for Obama, could he have done more? I suppose he probably could have, but it's a close call."
A close call? C'mon. As I responded on Twitter: "And all is for the best in the best of all possible worlds. This neoliberal horseshit would've made Mother Jones blanch. This piece sidesteps O's GWOT record. 2. It ignores O's penchant for starting negotiations where they should finish. 3. It presumes filibuster reform impossible. 4. It ignores that financial crisis response grew inequality. And so on."
And, remember: This fatalistic "Americans are all centrists anyway, Obama did all he could" shrug is coming from the house blogger of one of our foremost progressive journals. It's pathetic. This is yet another example of we progressive Democrats no longer having the courage of our convictions.
See also this very worthwhile Salon piece on Zephyr Teachout's challenge to notorious douchebag Andrew Cuomo, by my friend and colleague Matt Stoller, which talks about this exact same phenomenon.
"The basic theory of the 'New Democrat' model of governance is that Wall Street and multinational corporate elites produce wealth through the creation of innovative financial practices and technology, and that Democrats should then help middle class and poor citizens by taxing this wealth, and then using some of it to support progressive social programs…This method of running the economy has become so accepted among Democratic leaders that writers like New York Times columnist Paul Krugman and Vox writer Matthew Yglesias now argue that there simply is no alternative…
"There is a hunger in the Democratic Party for making the party serve the interest of regular voters, not the rich. In 2008, liberal Democrats decisively broke from the Clinton legacy and voted for Barack Obama, with his mantra of hope and change. Obama, however, stocked his administration with Clinton administration officials like Larry Summers, Tim Geithner and Janet Yellen. A joke going around Democratic circles after the election was that 'Those supporting Obama got a president, those supporting Clinton got a job.' Obama broke with the Clinton name, but brought the Clinton intellectual legacy, and Clinton's Wall Street-backed machine, into governance…"
"The potentially transformative message of the Teachout-Wu campaign is that the problem is not solely one of personalities or tactical political approaches. Rather it is that the New Democrat model itself, and the Democratic party establishment, is fundamentally at odds with the party's traditional liberalism…Teachout and Wu are trying to place the citizen at the center of policy. They do that through their proposals for public financing, for antitrust, for social insurance, infrastructure and labor."
Without vision, the people perish. If we ever want to see the real and positive change that Americans were promised back in 2008, we progressives have to stop acting like we have no other option than to fall into line behind the leftiest of the centrists and clap harder for every occasional, diluted-to-all-hell scrap they throw our way. There's more to life than Rockefeller Republicanism, and it's not like we don't have excellent historical templates to borrow from. We need to dream bigger, stop thinking the status quo is all there is, and push back.
Are Zephyr Teachout and Tim Wu going to knock out Andrew Cuomo, a guy who's quite obviously the poster child for everything that's wrong with our party? Alas, probably not. But one does not always fight because there is hope of winning. And New York in 2014 is as a good a place as any to start the long uphill slog of taking back our party.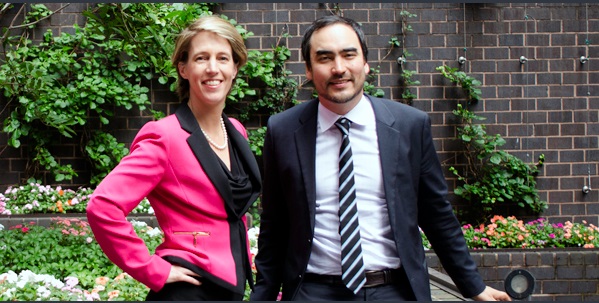 Update
: Right on cue, the NYT delves
into Andrew Cuomo's hobbling of the state ethics commission
.
"[A] three-month examination by The New York Times found that the governor's office deeply compromised the panel's work, objecting whenever the commission focused on groups with ties to Mr. Cuomo or on issues that might reflect poorly on him."
More
here
.
Meanwhile, Blake Zeff thinks Cuomo may have met his match in US Attorney Preet Bharara. "[Bharara] has not only taken possession of the files from the corruption-fighting Moreland Commission that Cuomo recently closed down as part of a budget deal, but has also publicly floated the possibility of investigating the governor's alleged meddling in its investigations."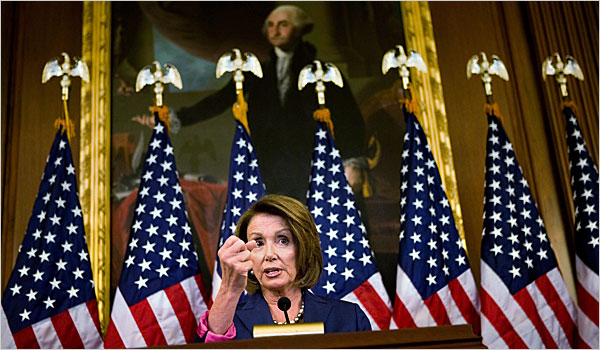 "
Our work is far from finished. As a result of Tuesday's election, the role of Democrats in the 112th Congress will change, but our commitment to serving the American people will not. We have no intention of allowing our great achievements to be rolled back. It is my hope that we can work in a bipartisan way to create jobs and strengthen the middle class.
"
In a rebuke to the few Blue Dog remnants that have been calling for her ousting, Speaker Nancy Pelosi announces her intention to run for Minority Leader in the 112th Congress. "[D]riven by the urgency of protecting health care reform, Wall Street reform, and Social Security and Medicare, I have decided to run."
This is excellent news. As I've said here before, Speaker Pelosi has gotten things done on the Hill, and the blame for what happened Tuesday does not fall on her shoulders. To the contrary, she was often the only Democratic leader putting up a fight. Also, there is historical precedent: Twice during his long Speakership, Sam Rayburn cooled his heels as Minority Leader, waiting out the GOP blips. As the linked article points out, if Pelosi emulating Rayburn somehow encourages Obama to consider becoming more Trumanesque, well, all the better.
"The president told Democrats that making change happen is hard and 'if people now want to take their ball and go home, that tells me folks weren't serious in the first place.'" As part of a continuing pattern of late, President Obama tells Rolling Stone that progressives need to stop whining about the way things are going and get happy, because, in what's become a new talking point, "If you look at the checklist, we've already covered about 70 percent [of the 2008 campaign promises.]" (70%?! Uh, can I see this checklist?)
Anyway, this latest weird effusion against the base has already been well-critiqued and well-answered many times. See, for example, Glenn Greenwald and David Dayen: "I've never seen a politician run an election with the message 'Don't be stupid, quit your bitching and vote for me.'" I would only add two things:
1) As it turns out, the unhappy Dems among us are more likely to vote, so perhaps berating them for not clapping enough is not altogether productive. (Unless, of course, the WH is doing it as a Sistah Souljah bank shot to get independents, on the classic establishment premise that indies love hippie-punching.)
2) I'd love to live in a world where progressive bloggers have the power to move ginormous voting blocs, I really would. But it takes a certain type of top-down, Beltway-obsessive mentality to think that's what's going on here. The biggest reason voters are depressed is because the economy is, quite obviously, not doing so well at the moment, and people are feeling the pinch. And, that aside, most Obama voters don't need blogs to tell them that this administration, on all too many fronts, hasn't lived up to its promises.
If this White House wants to engage the base (and I really, really hope they do, for reasons personal, professional, and patriotic), then, for Pete's sake, don't browbeat and lecture the Left for being disappointed — Try to make them less disappointed! Give them some red meat, respond to their concerns, and, you know, do the things you were elected to do. Why this even has to be said is beyond me.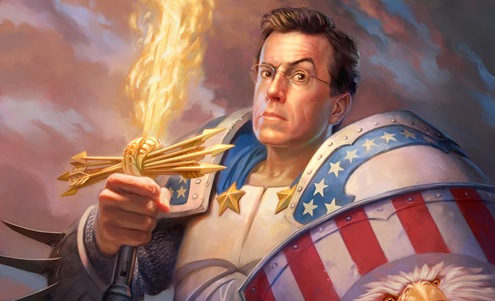 "
I'm a free-market guy. Normally, I would leave this to the invisible hand of the market, but the invisible hand of the market has already moved over 84,000 acres of production and over 22,000 farm jobs to Mexico, and shut down over a million acres of U.S. farm land due to lack of available labor. Because apparently, even the invisible hand doesn't want to pick beans.
"
As you no doubt know by now, and like his White House correspondent's dinner speech in 2006, the inimitable Stephen Colbert came to the Hill on Friday to deliver his expert testimony on the plight of migrant workers, a topic the media would otherwise have completely ignored in favor of whatever crazy thing Sarah Palin tweeted today.
For those making the ridiculous argument that Congress was horribly besmirched by Colbert's satirical testimony, I have two words: Twain and Elmo. For everyone else, it was very funny and, as per Colbert's usual m.o., spoke truthiness to power. "[I]t just stands to reason, to me, that if your coworker can't be exploited, then you're less likely to be exploited yourself. And that, itself, might improve pay and working conditions on these farms, and eventually, Americans may consider taking these jobs again."
"I don't know what my biggest contribution has been. I think it has been simply showing up for work every day, trying to fight the good fight for average people…But I leave more discontented when I came here because of the terrible things that have been done to this economy by political leaders who allowed Wall Street to turn Wall Street banks into gambling casinos which damned near destroyed the economy."
On the eve of his retirement, Chair of the House Appropriations Committee David Obey has some choice words for the administration, and himself. "I think the more important thing was what was my biggest failure…our failure to stop the ripoff of the middle class by the economic elite of this country, and this is not just something that happened because of the forces of the market."
"[T]o the extent that the 'liberal left' is upset at the President, it's because they are seeing a great opportunity slip away in real time. The only one that told the base that they could change America from the bottom up and bring forth a transformative new era of leadership is Barack Obama. If he didn't want one, he shouldn't have said anything."
In response to the most recent disparaging of liberal and progressive blogs by "senior administrative official" to his or her media lap dog of choice, FDL's Dave Dayen gets to the heart of progressive consternation with Team Obama: "Nobody had a bigger challenge coming into office than Barack Obama but nobody had a bigger opportunity. And liberals like myself are generally peeved that the opportunity has been squandered. Yes, squandered." Yep, sounds about right.
In very related news, with the passage of financial reform in the Senate today, The Prospect's Kevin Drum gets off a zinger about Obama's legislative accomplishments thus far. I think, overall, this president could have accomplished much more than Drum's biting joke suggests — most obviously on executive power issues like torture and indefinite detention. (Or, put another way, I just get irritated with people who throw up their hands and say the problem with our politics is entirely structural when you have an ostensibly-lefty president saying patently dumb things like this. Choices matter, and this administration makes terrible ones.) All that being said, Drum's comment was still worth a (rueful) laugh regardless.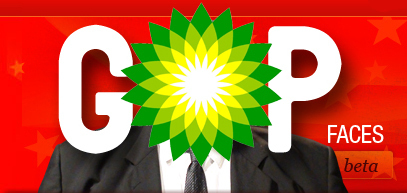 "
According to a GOP leadership aide, Barton met with House Minority Leader John Boehner (Ohio) and Minority Whip Eric Cantor (Va.) Thursday afternoon, and was told, 'Apologize, immediately. Or you will lose your [subcommittee] position, immediately. Now that he has apologized, we'll see what happens going forward.
"
Republican Rep. Joe Barton, the Ranking Member of the Energy & Commerce committee, decides to use the out-loud voice and genuflects before BP's Tony Hayward, causing all kinds of messaging trouble for Republicans today. (Then again, if they had a problem with Barton openly professing his fealty to his biggest donor, maybe they shouldn't have put it in today's talking points.) In any case, this one was right over the middle of the plate for the WH today. [Pic via Greg Greene.]