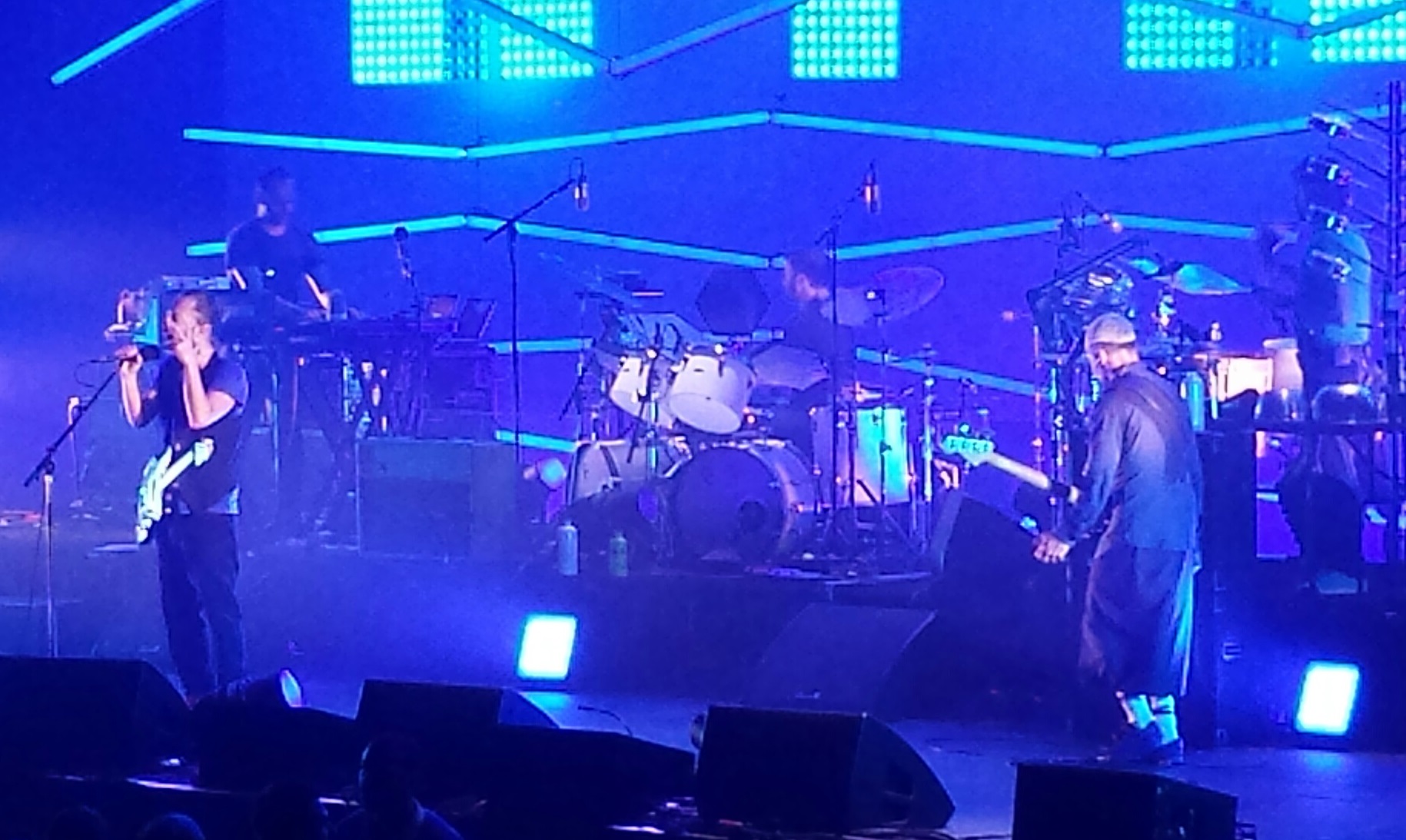 When not sitting ringside
while the GOP devours its own tail
, the ladyfriend and I have been
continuing to take in
concerts around the area. Of late:
Okkervil River at 9:30 Club: It Was My Season | On a Balcony | Black | For Real | Rider | Pink-Slips | John Allyn Smith Sails | Stay Young | Lido Pier Suicide Car | The Valley | Red | Kansas City | Where the Spirit Left Us | Down Down The Deep River | Our Life Is Not a Movie or Maybe | Lost Coastlines
Encore: Walking Without Frankie | A Hand to Take Hold of the Scene | Unless It's Kicks
I wasn't familiar with these guys at all before the show — Apparently, they've been at it for fifteen years — but they seemed to be a pretty solid alt-rock outfit out of Austin. The songs that had the biggest impression on me, live at least, were The Valley ("Fallen in the valley of the rock and roll dead!") and "Lost Coastlines" (buoyed by some very Morrissey-ish crooning by (iirc) the bassist.)
Atoms for Peace at Patriot Center: Before Your Very Eyes | Default | The Clock | Ingenue | Stuck Together Pieces | Unless | And It Rained All Night | Harrowdown Hill | Dropped | Cymbal Rush
Encore: The Eraser | Feeling Pulled Apart by Horses | Rabbit in Your Headlights | Paperbag Writer | Amok.
Encore 2: Atoms for Peace | Black Swan
Nor, being a movie more than a music guy, was I aware that Thom Yorke and Flea were taking time away from their respective SuperGroups to make Afrobeat albums as Atoms for Peace. Hard to pick a distinctive best moment from this show — Most of the songs ran together here (in a good way, if you enjoy more beat-intensive variations on that distinctive Yorke-shire croon.)
That being said, after watching Flea (Age 50) hop around like a madman half his age throughout this show — in the same week that Sandra Bullock (Age 49) braved the vicissitudes of Zero-G Ripley-style in Gravity, it sure seems like 50 is the new 30 these days. And that puts me solidly in my 20's – Woot.
The Roots on New Years' Eve notwithstanding, I've been derelict about posting on live entertainment I've seen this year, like Louis CK in Baltimore, The Motherf**ker with the Hat at Studio Theater, The Last Five Years in Shirlington, Dean Fields in Arlington and The Postal Service at Merriweather Post.
All that being said, since there's an especially clear precedent here — 1, 2, 3, 4, 5, 6, 7, 8, 9 — I shouldn't neglect to mention I caught my tenth Dylan show two weeks ago, as part of the Americana Music Festival (with Ryan Bingham, My Morning Jacket, and Wilco). Here's the setlist:
Things Have Changed | Love Sick | High Water (For Charley Patton) | Soon After Midnight | Early Roman Kings | Tangled Up In Blue | Duquesne Whistle | She Belongs To Me | Beyond Here Lies Nothin' | A Hard Rain's A-Gonna Fall | Blind Willie McTell | Simple Twist Of Fate | Thunder On The Mountain | All Along The Watchtower | Ballad Of A Thin Man
Perhaps it's because the setlists are fluctuating less this tour, or he's playing a shorter set, or he's just inspired by the bands he's touring with, but this was actually the best I've heard Bob sound in awhile. He seemed animated and his voice, while always gravelly these days, sounded more mellifluous than it's been in many a moon. "Things Have Changed" and "Ballad of a Thin Man" are always favorites, but the highlight for me this time around was finally catching Blind Willie McTell live — You can see it as well above, thanks to Joanna's Visions.
Also, due to the vagaries of having a job and all that — the festival started at 4:30pm over in Columbia, MD — we missed Ryan Bingham's set and all but the last song of My Morning Jacket, but here was the evening for the Wilco-inclined (who were also very good):
Ashes of American Flags | Bull Black Nova | Blood of the Lamb | Christ for President | I Am Trying to Break Your Heart | Art of Almost | Jesus, Etc. | Can't Stand It | Born Alone | Passenger Side | I Got You (At the End of the Century) | Heavy Metal Drummer | I'm the Man Who Loves You | Dawned on Me | A Shot in the Arm | The Lonely 1