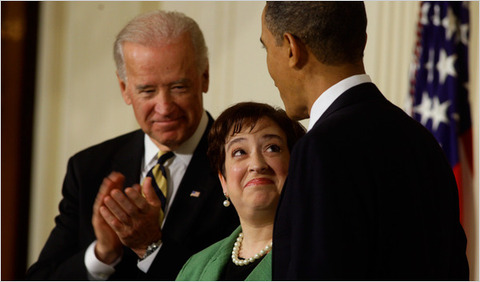 "'
I am confident that she's a solid, reliable modern Democrat…She's not George McGovern or whoever the liberal left of the Democratic party would want, but the left of the Democratic party isn't where the party is any more. She's a good, solid Clinton-Obama Democrat.
'"
Well, that's the trick, isn't it? Particularly that she'll be replacing the irreplaceable John Paul Stevens. In any case, President Obama has made his second pick for the Supreme Court, and it is his Solicitor General and former Harvard Law Dean Elena Kagan. "As solicitor general, Ms. Kagan has represented the government before the Supreme Court for the past year, but her own views are to a large extent a matter of supposition."
Making the progressive case for Kagan: Larry Lessig, an old friend of hers: "The Kagan I know is a progressive…[T]he core of Kagan's experience over the past two decades has been all about moving people of different beliefs to the position she believes is correct. Not by compromise, or caving, but by insight and strength. I've seen her flip the other side." Lessig expounds on this coalition-builder argument here: "To hear the liberals talk about it, it sounds like they think we need a Thomas or Scalia of the Left…But nobody who understands the actual dynamics of the Supreme Court could actually believe that such a strategy would produce 5 votes." (To which one must ask, really? Who's gonna flip?)
Making the progressive case against Kagan: Salon's Glenn Greenwald: "[G]iven that there are so many excellent candidates who have a long, clear commitment to a progressive judicial philosophy, why would Obama possibly select someone who — at best — is a huge question mark?…I believe Kagan's absolute silence over the past decade on the most intense Constitutional controversies speaks very poorly of her." This was a follow-up from another piece, where he argued: "Kagan, from her time at Harvard, is renowned for accommodating and incorporating conservative views, the kind of 'post-ideological' attribute Obama finds so attractive." Interestingly, this last part seems much the same argument Lessig's making in her favor, with the valence changed.
(As an aside, this feud got a bit heated, with Greenwald deeming Lessig a liar and stooge. Having been on the wrong end of Greenwald's wrath myself on the Citizens United case, Lessig's rebuttal to this charge sounded all-too familiar: "Chill, Glenn. Dial down the outrage. Dial back the hyperbole. And stop calling those who applaud you liars…[Y]ou can make your point well enough without painting everyone else as liars or constitutional crazies." True story.)
Anyway, speaking of Citizens United, since the President has explicitly said that decision is lousy law several times over, I presume he's made sure Kagan is in agreement on that front. (He has, right?) And, as I said back during John Roberts' nomination, my feeling is generally the president's prerogative in choosing Supreme Court justices should be respected. (Can't countenance Roberts' lying, tho'.) So, if Kagan's the president's choice, I'm prepared to give her the benefit of the doubt and support the nomination.
But, quite frankly, I shouldn't have to doubt (and here, the next two links are via Greenwald.) As the NYT editorial page well put it: "President Obama may know that his new nominee to the Supreme Court, Elena Kagan, shares his thinking on the multitude of issues that face the court and the nation, but the public knows nothing of the kind. Whether by ambitious design or by habit of mind, Ms. Kagan has spent decades carefully husbanding her thoughts and shielding her philosophy from view."
So, sure, I guess it's entirely possible Kagan is a secret superprogressive of the Leonard Cohen type. ("They sentenced me to 20 years of boredom, for trying to change the system from within.") But there's another explanation that's more likely. And, loath as I am to agree with David Brooks, his column today echoes almost exactly what I was thinking:
"Kagan has apparently wanted to be a judge or justice since adolescence (she posed in judicial robes for her high school yearbook.) There was a brief period, in her early 20s, when she expressed opinions on legal and political matters. But that seems to have ended pretty quickly. She has become a legal scholar without the interest scholars normally have in the contest of ideas. She's shown relatively little interest in coming up with new theories or influencing public debate. Her publication record is scant and carefully nonideological…What we have is a person whose career has dovetailed with the incentives presented by the confirmation system, a system that punishes creativity and rewards caginess."
That's my rub too, and it dovetails with larger problems I have with DC political culture. More often than not, the people who tend to succeed here are the ones who keep their head down, play the DC game, stay resolutely non-ideological and unobtrusive in their opinions. never go out on a limb, never say or do anything that could hurt their bid to be a Big (or Bigger) Shot down the road. (Hence, the whole phenomenon of The Village.)The problem is, these plodding, risk-averse careerist types are exactly the type of people you don't want making decisions in the end, because they will invariably lead to the plodding, risk-averse and too-often rudderless politics of the lowest common denominator.
I'm really hoping the future Justice Kagan isn't another example of this troubling trend, because as I said when Stevens retired: "The Court needs a strong and unabashed liberal conscience right now. What it emphatically does not need is another centrist technocrat that will help push the Court ever further to the right" But, as Kurt Vonnegut put it in Mother Night, "We are what we pretend to be, so we must be careful about what we pretend to be." And when someone spends decades being so careful and circumspect in the face of so many obvious injustices, both by recent administrations and in the world at large…well, I really have to wonder about their judgment.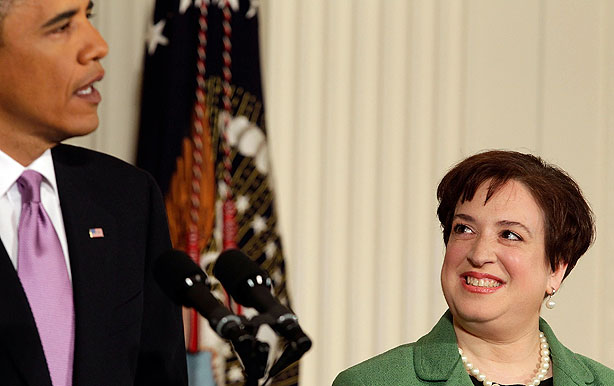 Update
: Having said all that, this
recently unearthed 1996 internal campaign finance reform memo
to Chief of Staff Leon Panetta, on which Kagan is one of six signers, suggests she is in fact
on the right side of the campaign finance reform issue
: "
It is unfortunately true that almost any meaningful campaign finance reform proposal raises unconstitutional issues and will provoke legal challenge. This is inevitable in light of the Supreme Court's view — which we believe to be mistaken in many cases — that money is speech and attempts to limit the influence of money on our political system therefore raises First Amendment problems. We think…the Court should reexamine its premise that the freedom of speech guaranteed by the First Amendment always entails a right to throw money at the political system.
" So that's a big check-mark in my book — Unfortunately,
other Clinton-era memos are less promising
.