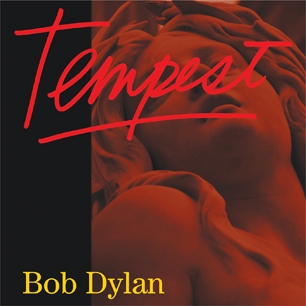 "
Today sees the release of the 35th studio album of Bob Dylan's career, Tempest. The album is great, and of course it's great—at this point, 15 years after Time Out of Mind announced his return to some entirely new type of form, that statement seems expected and unremarkable, and that unremarkableness is nothing less than astonishing
"
Fifty years after his first album, and eleven years after a memorable 9/11 also brought forth Love and Theft, Bob Dylan's Tempest drops today.
Update: Been settling in with the album tonight, and it's already my favorite since Time Out of Mind. It's very dark — Bob's in full-on Blind Willie apocalyptic mode. This is dead land, this is cactus land. Eliot's in the captain's tower & the Titanic sails at dawn.
Speaking of which, what with the 14-minute titular track about the Titanic, "Desolation Row" obviously comes to mind. But there's a little John Wesley Harding here as well — My early favorites are "Scarlet Town" and "Tin Angel," the latter very much a frontier tale like "Frankie Lee and Judas Priest" or "Lily, Rosemary, and the Jack of Hearts," and the opening track and first single, "Duquesne Whistle," is much like "I'll Be Your Baby Tonight" in that it doesn't seem to fit the rest of the album. Anyways, a few listens in, I really like it.