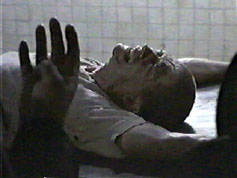 'How many fingers, Winston?'

'Four. I suppose there are four. I would see five if I could. I am trying to see five.'

'Which do you wish: to persuade me that you see five, or really to see them?'

'Really to see them.'

'Again,' said O'Brien.

Perhaps the needle was eighty — ninety. Winston could not intermittently remember why the pain was happening. Behind his screwed-up eyelids a forest of fingers seemed to be moving in a sort of dance, weaving in and out, disappearing behind one another and reappearing again. He was trying to count them, he could not remember why. He knew only that it was impossible to count them, and that this was somehow due to the mysterious identity between five and four. The pain died down again. When he opened his eyes it was to find that he was still seeing the same thing. Innumerable fingers, like moving trees, were still streaming past in either direction, crossing and recrossing. He shut his eyes again.

'How many fingers am I holding up, Winston?'

'I don't know. I don't know. You will kill me if you do that again. Four, five, six — in all honesty I don't know.'

'Better,' said O'Brien.
Hard to believe, but, this morning, the recent grisly revelations of Dubya-era torture practices became even more horrifying. As we've gleaned more info over the past few days, certain obvious and troubling questions kept popping up. Why, as indicated here, would higher-ups insist on additional waterboarding sessions for Zubadayah, even after the CIA agents at hand thought the suspect "had given up all the information he had"? Also: Mind you, even one session of torture is reprehensible — and illegal — enough. But what more did the powers-that-be think they were going to get out of these suspects after ten waterboardings? Twenty? One hundred?
Well, now we know. Not only did Dubya apparachiks conceive a torture regime well before it was approved (and before they had any prisoners on hand — see also the new and unredacted Armed Services Committee report), but they tortured their suspects into the ground because they were trying to prove a false positive, i.e. that there was some serious operational link between Iraq and Al Qaeda that could be used to sell the second Gulf War. (See also the forged Habbush letter.)
"'There were two reasons why these interrogations were so persistent, and why extreme methods were used,' the former senior intelligence official said on condition of anonymity because of the issue's sensitivity. 'The main one is that everyone was worried about some kind of follow-up attack (after 9/11). But for most of 2002 and into 2003, Cheney and Rumsfeld, especially, were also demanding proof of the links between al Qaida and Iraq that (former Iraqi exile leader Ahmed) Chalabi and others had told them were there.'"
So, in short, it would seem the suspects held by the CIA were tortured over and over again because they would not concede that two plus two equals five.
Really, how much lower can these assholes sink? What could they possibly do that would cause more violence to our ideals, or that would make our cherished role as a beacon of freedom seem any more ridiculous in the eyes of the world, than what they've already done?
Once again, I'm reminded of Lincoln's famous remark to the Indiana 14th: "'Whenever I hear anyone arguing for slavery, I feel a strong impulse to see it tried on him personally.'" At the very least, somebody, or somebodies, better go to jail for a loooong time for this. Anything less is simply unacceptable.