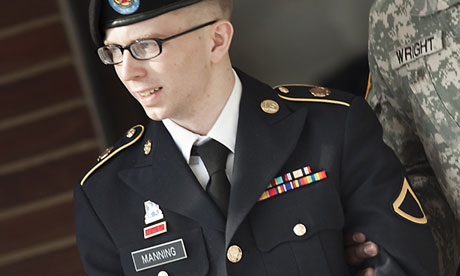 "I hoped that the public would be as alarmed as me about the conduct of the aerial weapons team crew members. I wanted the American public to know that not everyone in Iraq and Afghanistan are targets that needed to be neutralized, but rather people who were struggling to live in the pressure cooker environment of what we call asymmetric warfare. After the release I was encouraged by the response in the media and general public, who observed the aerial weapons team video. As I hoped, others were just as troubled– if not more troubled that me by what they saw."
While pleading guilty to 10 of the 22 charges against him, Bradley Manning makes a long and detailed statement about why he gave classified documents to Wikileaks. "The more I read the cables, the more I came to the conclusion that this was the type of information that– that this type of information should become public. I once read a, and used, a quote on open diplomacy written after the First World War and how the world would be a better place if states would avoid making secret pacts and deals with and against each other."
See also this on Gitmo: "[T]he more I became educated on the topic, it seemed that we found ourselves holding an increasing number of individuals indefinitely that we believed or knew to be innocent, low level foot soldiers that did not have useful intelligence and would be released if they were still held in theater."
I'm with Glenn Greenwald on this – Bradley Manning should be considered a hero, the Daniel Ellsberg of our day, and the real crime here is how terribly he's been treated by the powers-that-be for a justifiable act of whistle-blowing. "He knew exactly what he was risking, what he was likely subjecting himself to. But he made the choice to do it anyway because of the good he believed he could achieve, because of the evil that he believed needed urgently to be exposed and combated, and because of his conviction that only leaks enable the public to learn the truth about the bad acts their governments are doing in secret."
And, for this stand on idealism, we've kept Pvt. Manning locked in a cell for 23 hours a day and are (still) threatening him with life in prison. Meanwhile, this town is overrun with glib, useless assholes who don't care about anyone but themselves, and those guys keep failing up. We hound and imprison our Swartzes and Mannings, while coddling and venerating the Dimons and Blankfeins of this world. Some system.
"An executive at a small defense contractor recently joked to me, 'Afghanistan is our business plan.' I asked him what he would do if the war ended. He stared at me for a moment and said, 'Well, then I hope we invade Libya.'"
Proving Chalmers Johnson's maxim in Why We Fight that "when war becomes that profitable, you're going to see more of it," PBS's Joshua Foust looks at the economic implications of withdrawal in Afghanistan for our standing army of Hessians defense sub-contractors. "Ten years of war have established a discrete class of entrepreneurs, mid-level workers and administrators who are completely reliant upon the U.S. being at war to stay employed." I somehow doubt we'll be freezing their pay anytime soon.