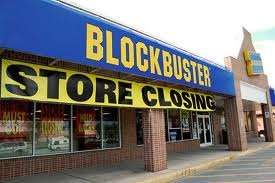 "As you probably heard, the onetime juggernaut of a video rental chain formally pulled the plug on most of its remaining retail stores this week. Just think of all those abandoned storefronts where people used to rent 'Wall Street 2' or 'Pain and Gain' or whatever; just think of what Bruce Springsteen, the bard of economic collapse, might have done with such a…well, I was about to type 'catastrophic occurrence,' but..it was more like a sector of the marketplace realigning itself with technological reality after years of denying the inevitable."
Down in South Carolina, back in 1993, I wore the blue and yellow, got ten free films a week. I built up some movie knowledge, right near the Florence Mall. Now those tapes have been taken away, lost amid the suburban sprawl. After mining the Internet hivemind, Matt Zoller Seitz gathers odes to the end of Blockbuster in the style of Bruce Springsteen.
Mowing neighborhood lawns notwithstanding, Blockbuster was actually my first job. And, while I never cottoned to their Republican-leaning ways or their ridiculous drug test policy, it was a pretty good gig for a high school kid, all in all — if you could withstand the same twenty trailers and episode of Duck Tales playing ALL THE TIME. Like I said, ten free movies a week. As an 18-year-old just working to raise beer-money for college, you can't beat that with a stick.