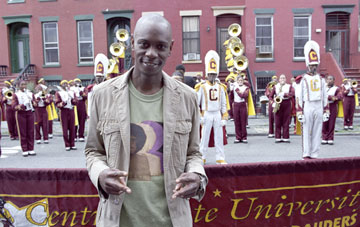 True, a
day as nice as today
should really be spent outside. That being said, it's hard to come up with a better "first-day-of-spring" movie than the wickedly funny, rousingly optimistic hip-hop concert flick
Dave Chappelle's Block Party
, directed by
Eternal Sunshine of the Spotless Mind
's Michel Gondry. Chronicling a September 2004 shindig thrown in Bedstuy and featuring performances by Kanye West, Common, Mos Def & Talib Kweli, Dead Prez, Cody Chestnutt, Erykah Badu, Jill Scott, The Roots (w/ oldschoolers Big Daddy Kane and Kool G Rap), and the reunited Fugees,
Block Party
bounces with cool, infectious verve and power-to-the-people, DIY exhilaration. In short, this movie just brings a smile to your face. (Yeah, ok, it definitely helps to have an appreciation for hip-hop, but as this movie points out, you may have one and not even know it.)
For those of you anxiously awaiting Season 3 of Chappelle's Show, be heartened: This is Chappelle's show. Be he ambling through his Ohio hometown doling out "Golden Tickets" to unsuspecting passers-by, tooling around Brooklyn hyping the event ("Attention, Huxtables!"), or MC'ing the Bedstuy proceedings with a deft, light-hearted touch (and a James Brown rimshot), Chappelle's wry irreverence and broad, encompassing good humor are contagious. Often, it seems, he can't believe his luck at becoming the jester-king of Brooklyn for a day, and he grounds and permeates the film with his antic enthusiasm and sardonic, puckish charm.
And then there are the performances. From Kanye West amping up "Jesus Walks" with the aid of the Central State University band, to Def & Kweli jamming over "Umi Says", to Dead Prez getting PE/KRS-1-righteous with "Turn Off Your Radio," to sirens Erykah Badu and Jill Scott dueling over The Roots' "You Got Me," to Lauryn Hill's sultry, heartfelt "Killing Me Softly," Block Party definitely delivers the goods in terms of the hip-hop. All the performances are infused with enough energy and momentum to get the whole theater audience jumping. (Slightly off-topic, when I was ten years old, I was pretty sure the coolest guy in the world was Han Solo. Now that I'm an older and wiser 31, I have to concede that, that GMC Denali ad notwithstanding, it may just be Mos Def. And, speaking of Def, his "straight-man" (a la Ed McMahon) sounds a lot like Ford Prefect.)
In the end, after all the jokes, beats, and rhymes, two hip-hop truths emerge from Dave Chappelle's Block Party: "Life is a funny, unpredictable thing," as Chappelle puts it at one point. And, as many others — both rap superstars and ordinary people like you and me — come to point out throughout the film, this world is what you make it, so do something good and have some fun out there, y'all.