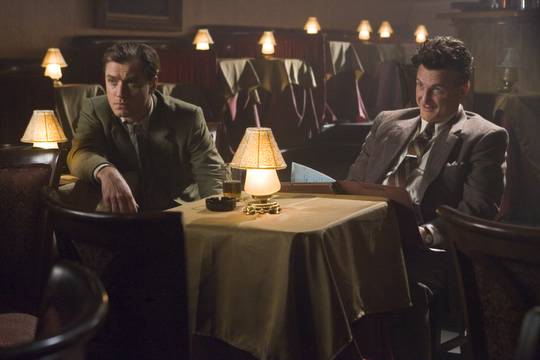 Unfortunately,
the reviews
of
Stephen Zaillan's All the King's Men
, the
second half
of my Friday morning double-feature, are basically correct. The film just doesn't work…Indeed, it's even a bit of a stinker. I've never seen the
1949 John Ireland/Broderick Crawford version
, so I can't tell you how it compares to that particular Oscar-winner. But, a few ghostly wisps of Penn Warren's prose notwithstanding, this 2006 take on the novel is, as I feared
in a post one year ago today
, both hopelessly miscast and remarkably pedestrian. Straining mightily for solemnity throughout its run, this
Men
feels leaden from the start and fails to capture the sprawling grandeur of the novel (which, I guess,
some literary critics hate
. I for one love the book — it's one of my all-time favorites, and not just for the
failed historian digression
.) If you've never read
All the King's Men
, trust me — you'll want to stay away from this flick. (If you have, well, you probably want to stay away too.)
Loosely based on the life of Louisiana's Huey Long, All the King's Men follows the trajectory of one Willie Stark (Sean Penn, way off), an earthy and ambitious backcountry politician with big city hungers and national dreams. (Consider him the Tommy Carcetti of his day.) In the midst of running a doomed gubernatorial campaign — designed by political insiders Tiny Duffy (James Gandolfini) and Sadie Burke (Patricia Clarkson) to split the hick vote and thus elect the favored candidate of the powers-that-be — Starr finds his populist voice and manages to capture the State House on a platform of less corporate graft and more roads, schools, and libraries for the people. But, once in office, the lure of power aggravates Stark's more misanthropic tendencies, and (though this film barely explains how) the new governor begins to enact his redistributive policies with increasingly little regard for democratic niceties.
Along for the ride is our embittered narrator, Jack Burden (Jude Law, also way off but, surprisingly, closer to the mark than Penn). A slumming scion of Louisiana's elite turned disaffected journalist (and functioning alcoholic), Burden, who relishes playing the world-weary observer, becomes Stark's right-hand man despite himself. But, involvement, like, power, carries its own price. Soon, to accommodate Stark's growing political appetites, Burden finds he must not only reenter but betray the past he thought he'd earlier burned away, whether it be by digging up dirt on his magisterial godfather, Judge Irwin (Anthony Hopkins, on autopilot), convincing his best friend (Mark Ruffalo, zombielike) to sign up under Stark's employ, or allowing his youthful sweetheart (Kate Winslet, strangely bad) to herself come under Stark's thrall.
To the film's credit, the movie attempts to spend as much time on Burden's arc as it does on Stark's, as it should. But the two halves of the tale seem almost wholly separate here — Stark disappears for the middle third, when Burden's backstory takes center stage. And that's just the start of what's wrong here — Simply put, everything just seems off. Penn is wholly unbelievable (and virtually inscrutable) as Stark, Law doesn't serve much better as Burden. Other actors (Hopkins, Ruffalo) seem bored, others still (Gandolfini, Clarkson) are given too little to do. Accents are consistently mangled throughout. James Horner's score is intrusive to say the least. Plot details are consistently elided over to the point of the story barely making sense (Why, for example, is Stark being impeached? One gets no clue in this version.) And Zaillan's hamhanded directing stops the movie dead all too many times (the most egregious case being in the final moments, with the Louisiana seal — you'll see what I mean.) Even the period is off: The novel takes place during the Depression, but for reasons that never become apparent we begin our tale here in 1954. If it ain't broke, people…
The sole redeeming grace of this version of All the King's Men are the occasional literary flourishes from the book, which are usually given by Jude Law in voiceover. Only in these brief moments, and only imperfectly, can we sense the endless jiggers of whiskey, the cedary scent of spanish moss, the lingering sweat and grinding despair that characterize Penn Warren's novel. Whether it be Willie's path to power or Jack's remembrances, All the King's Men is about more than just a political rise and fall. As befitting its author's role in the southern agrarian literary movement, curdling at the novel's heart is a lament for the days of yore and a futile raging against the inexorable indignities of time. The past passes: It marks us forever and can neither be escaped nor reclaimed as it was — it can only be confronted and accepted. "Man is conceived in sin and born in corruption and he passeth from the stink of the didie to the stench of the shroud." Zaillan's film version does make a meaningful attempt to capture these crucial elements of the book, but, alas, like Willie himself, its reach far exceeds its grasp.