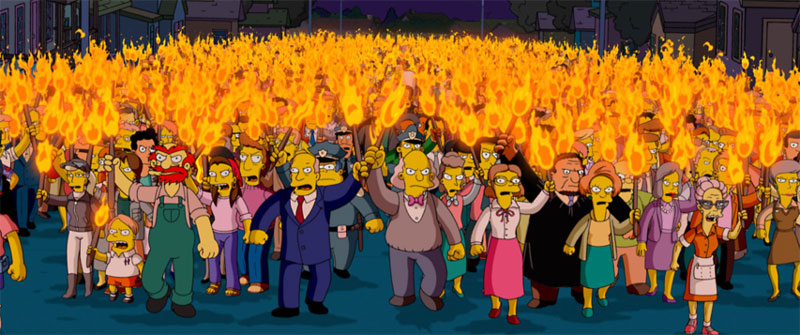 "At McCain-Palin rallies, the raucous and insistent cries of "Treason!" and "Terrorist!" and "Kill him!" and "Off with his head!" as well as the uninhibited slinging of racial epithets, are actually something new in a campaign that has seen almost every conceivable twist. They are alarms. Doing nothing is not an option…What makes them different, and what has pumped up the Weimar-like rage at McCain-Palin rallies, is the violent escalation in rhetoric, especially (though not exclusively) by Palin…By the time McCain asks the crowd "Who is the real Barack Obama?" it's no surprise that someone cries out 'Terrorist!' The rhetorical conflation of Obama with terrorism is complete. " — Frank Rich, QFT, October 12, 2008.
It'd be funny, if it weren't so frightening, to see this current version of the GOP end as it began. Forty years after the New Right that coalesced behind Goldwater and Reagan saw its first national victory with the election of Richard Nixon on a, ahem, "law and order" ticket (in no small part thanks to the assassination of RFK), the conservative movement that gave us Helms, Falwell, Reagan, Gingrich, and Dubya is collapsing back into its original base state: a seething, festering cauldron of paranoia, race-baiting, inarticulate rage, and eminently justifable, easily exploitable working-class grievance.
And, with no other game-changer left in the Atwater playbook, McCain the mythical maverick, his "Sarracuda" running mate, and the sad coterie of (lily white) GOP deadenders about them have now taken to doing the very opposite of "Putting Country First" — Instead, they're stirring this pot, hoping the vile, unstable, and extremely combustible concoction therein can somehow propel them into the White House. Call it the Joker strategy: With no other way to win at this point, the McCain campaign is banking on the American people getting so scared, confused, and enraged by their lies and name-calling that we'll up and decide to blow each others' ferries out of the water. (In fact, now that I think about it, I guess that might go a long way towards explaining McCain's bizarre recent "my fellow prisoners" slip. But, sorry, Senator, the prisoners' dilemma isn't going to play any better in November than it did in Gotham a few months ago.)
Frank Rich is right: Even as a Hail Mary play in anything-goes politics, this is beyond the pale. John McCain should — and, given his body language of late, does — know what so often results — and has resulted — from that foul brew he's toying with. In short, this is a new low, and half-heartedly attempting to walk back the hate after fiddling with the lock on this Pandora's Box is too little, too late.
Of course, we all eventually expected this of the Republican party — Their hold on power is at long last dissipating, and their sick, desperate movement, four-and-a-half decades old, is seemingly now in its ugly death throes, so why not trot out the oldest, saddest one-trick pony in their tiny stable? But McCain, from everything we've heard about the man, was meant to be better than this. A straight-talker, a man of honor, yadda yadda yadda. Well, horsepuckey. John McCain has brought everlasting shame on himself, and if there's any justice left in this country, — and woe to you, Senator, I'm sure there is — his repudiation at the polls in a few short weeks will be devastating.