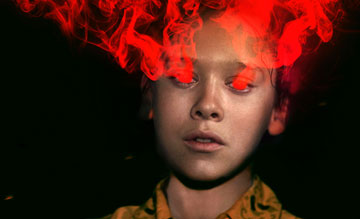 As an afternoon chaser to a morning spent at the NY Comic-Con (I posted some pics over at Flickr), my brother, sister-in-law, and I took in the Russian cinema sensation of 2004, Timur Bekmambetov's Night Watch. On one hand, it includes some really strange and arresting visual moments, and from very early on seems like a film in which pretty much anything can happen. But, frankly, I wasn't feeling it. Even despite all the exposition in the early going, the movie makes very little sense, even by the laxer standards one accords fantasy films. And Night Watch wears out its welcome well before the end — To be honest, I kinda wish I'd just watched the two-and-a-half-minute version at the official site.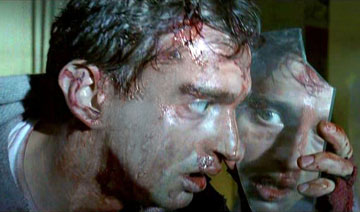 After a brief prologue describing the establishment of a centuries-old Truce between the Others, spectral forces of Light and Dark, Night Watch moves to the Moscow of twelve years ago, where a Ringo-haired Joe Flaherty look-alike named Anton (Konstantin Khabensky) seeks out a Love Potion #9 from an unsettling Russian crone. Soon, after consuming a concoction of blood, vodka, and lemonade, Anton flirts with the idea of causing a paranormal stillbirth in his now ex-girlfriend, which draws the attention of the Night Watch, a diplomatic police force of Others assigned (with their counterparts, the Day Watch) to ensure compliance with the Truce. Flash forward to the present, when Anton — as it turns out, himself an Other — has joined the Night Watch and now spends his days quaffing blood and chasing down vampires who kill without a license. (Did I mention this film was Russian? Even supernatural forces, it seems, rely on bureaucrats.)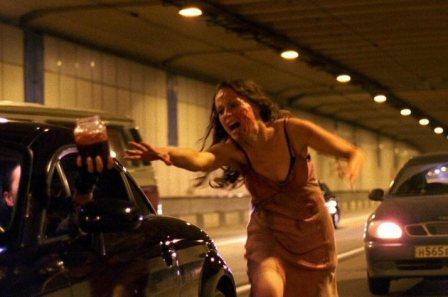 Now that's only the first twenty-five minutes or so — Night Watch takes several more baroque jags that involve, among other things, a prophecy of a Great Other precipitating a Last Battle between Good and Evil (Yes, this Film Demands a lot of Gratuitous Capitalization), a lovely Virgin and her ancient, unfortunate curse, an all-consuming vortex of bad mojo that rips rivets from planes and plunges them into your coffee, and a young child who draws the attention of a newly-minted vampire (at right). And, true, many of these new elements are introduced with clever visual flourishes — I particularly liked the aging secret, the spider-doll, and the world of the Gloom. But what is the Gloom, exactly, and how the heck does it work? What was the point of the Owl-woman? Why doesn't the starving vampire chick feed on someone — anyone — else? Why did Der Evil Commissar give Anton the charmed necklace? And so on, so on. There's something to be said for inscrutability at times, but Night Watch spends too much time making capital-R Rules only to break or ignore them in the later going.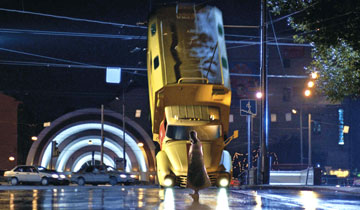 Finally — and this is a more unforgivable sin — for a movie that occasionally moves at a bloody, visceral blur, Night Watch really drags at times. Given the thoroughly bizarre set-up and its fanboy grounding, I really wanted to like this film, but in all honesty I found my attention wavering within forty-five minutes (right about the time the Rammsteinish death metal accompanies the speeding Other-truck with the nifty gear-shift) and was kinda bored after an hour or so. There are some moody, memorable moments throughout, but they added up to a better trailer than they did a film. Apparently, the sequel Day Watch — is in the can, but I doubt I'll revisit this particular world, or at least not without more vodka on hand.