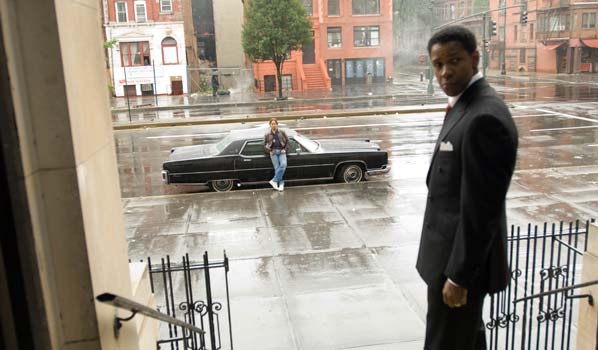 Superfly
,
Serpico
,
The French Connection
…
Ridley Scott's American Gangster
plays for most of its run like a greatest hits cover-medley of the cop and gangster thrillers of the 1970s. But, while well-made and eminently watchable,
Gangster
never becomes truly engaging. (EW's Owen Gleiberman pretty much nailed it when he called the film "
a ghost version of a 70's classic
.") It's hard to fault the superior production values or the large, impressive cast, which is chock-full of ringers in even the smallest of roles. But for all the quality on display,
American Gangster
doesn't come close to matching the mischievous vibrancy of Denzel Washington's last 70's homage,
Spike Lee's Inside Man
, nor is it even the best attempt at a throwback 70's cop flick this year — that would be
David Fincher's haunting Zodiac
.
Gangster
hits its beats well enough, which isn't surprising given that Ridley Scott's at the helm. But, however gritty and lived-in at times, it's still missing the pulse that would make it a truly memorable movie.
Frank Lucas may be an O.G.
, but
Gangster
, frankly, could've benefited from more in the way of originality.
As Gangster opens, we witness the aforementioned Frank Lucas (Washington) lighting a bound man on fire and then unloading a clip into him — from the get-go, this guy clearly has a dark side. We then watch him watching his mentor, "Bumpy" Johnson (Clarence Williams III) doling out Thanksgiving turkeys to the people of Harlem from the back of a truck, driving home, a la Willie Stark in All the King's Men, the importance of public perception in maintaining a criminal empire. Bumpy lives just long enough in the film to impart some choice lessons in vertical integration before he succumbs to a heart attack, leaving Lucas to take over and consolidate the Harlem drug trade. This Lucas does by bypassing all the usual middlemen — the Italian mafia, crooked cops, etc. — and procuring his heroin supply direct from the source, deep in the jungles of Southeast Asia, thus enabling him to sell purer stuff on the streets at a cheaper price. (The product gets into the country by way of U.S. military planes coming back from Vietnam.)
As this new drug empire grows — and stays mostly under the radar, thanks to Lucas' emphasis on ignoring flash — we also follow the story of one Richie Roberts (Russell Crowe). As cops go, Roberts is old-school: He prides himself on his honesty and incorruptability despite his intimate connections with some mid-level mafiosi, his flagrant sleeping around (which has turned his failed marriage to Carla Gugino into an ugly custody battle) and the fact that every other po-lice in his unit — and in NYC, for that matter — seems to be on the take. Eventually, of course, Det. Roberts sets his sights on Lucas, and the game truly begins…
But, game or no, everybody knows the dice are loaded. Part of the problem with American Gangster is that there's no real mystery about how it'll all turn out in the end. Even if you don't know a thing about Lucas going in (and I didn't), these sorts of movies invariably follow a rather predictable pattern, and all the police procedural work, Harlem vignettes, or heroin house of horror asides throughout here can't hide the fact that Gangster follows it to the letter. Also, while Washington and Crowe are both among some of the best actors working today, neither is given much to work with here. As a hard-working, quick-witted family man who prizes loyalty and doesn't take any guff from those around him, the Frank Lucas character is right in Denzel's usual wheelhouse, even despite the additional sociopathic streak. (His turn in Training Day seemed more of a stretch.) And Crowe's Roberts is well-played but, frankly, not all that interesting as written. Crowe can definitely do conflicted cops — Exhibit A, L.A. Confidential — but this is the first performance by him that I can remember that doesn't make much of an impression.
And that doesn't just go for the top two. American Gangster boasts a veritable Murderer's Row of quality, likable character actors in its credits — not only Williams and Gugino but Chiwetel Ejiofor, Idris Elba, Josh Brolin, Joe Morton, Jon Polito, John Hawkes, John Ortiz, Ruby Dee, and rappers RZA and Common (as well as Cuba Gooding Jr. and Norman Reedus) — but more often than not they just get lost in the shuffle here. (That being said, Armand Assante, overplaying his genteel mafia don to the hilt, does manage to squeeze in a particularly lousy performance.) Not to be too harsh, Gangster isn't a terrible film, nor even really a bad one. But, however well-made, it's more by-the-numbers than it is blue magic.