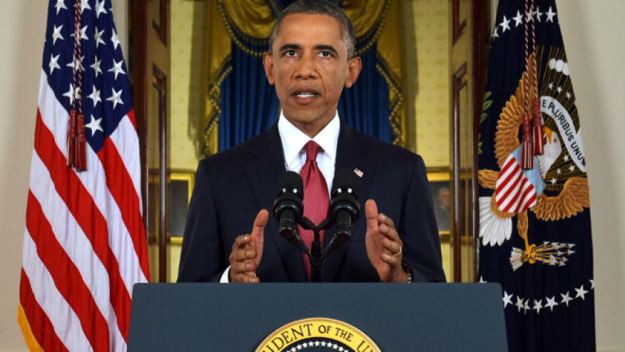 "Destroying what Obama calls the Islamic State of Iraq and the Levant won't create an effective and legitimate Iraqi state. It won't restore the possibility of a democratic Egypt. It won't dissuade Saudi Arabia from funding jihadists. It won't pull Libya back from the brink of anarchy. It won't end the Syrian civil war. It won't bring peace and harmony to Somalia and Yemen. It won't persuade the Taliban to lay down their arms in Afghanistan. It won't end the perpetual crisis of Pakistan. It certainly won't resolve the Israeli-Palestinian conflict."
ISIS, oh ISIS – What drives us to you is what drives us insane: In Reuters, Middle East expert Andrew Bacevich has some serious doubts about a military solution to the newest Big Bad (who, let's remember, are a threat at all precisely because of all the weapons we've already dumped in the area — Gee, it's almost like our always getting involved makes everything worse.) "Rudderless and without a compass, the American ship of state continues to drift, guns blazing."
He's not alone. While they've been highly complicit in the collective freak-out over the past few weeks, the media — as welcome returning blogger Dan Froomkin notes — are starting to get skeptical too. "Allam notes that Yemen and Somalia are hardly examples of success; that the new Iraqi government is hardly 'inclusive'; that training of Iraqi soldiers hasn't worked in the past; that in Syria it's unclear which 'opposition' Obama intends to support; and that it may be too late to cut off the flow of fighters and funds."
Keeping in mind that Obama himself seems to think this is all a terrible idea, let's recall what we're really dealing with here, via the very worthwhile "War Nerd," Gary Brecher: "ISIS, compared to any of the groups on that list, is about as scary as your neighbor's yappy Shih Tzu: all noise and no teeth. Let's just sober up, for Christ's sake, and remember we're talking about a half-assed Sunni militia that couldn't face up to Assad's mediocre Syrian Arab Army and still hasn't found a way to occupy Sunni Iraqi towns that were outright abandoned by the Army, left totally undefended."
Along the same lines, see Brecher on ISIS's initial advance back in June:
"Actually, topography has everything to do with what's gone well or badly for ISIS. in this latest push. If you know the ethnic makeup of the turf they've taken, their 'shocking gains' don't seem so shocking, or impressive. After all, we're talking about a mobile force — mounted on the beloved Toyota Hilux pickup truck, favorite vehicle of every male in the Middle East — advancing over totally flat, dry ground in pursuit of a totally demoralized opponent. In that situation, any force could take a lot of country very quickly…So this isn't the second coming of Erwin Rommel by any means. Everything has conspired to push the Sunni advance, from the lousy opponent they're up against to the terrain, which is a light mechanized commander's dream.

Flat and dry is how a mechanized force commander wants his ground — and believe me, you haven't seen flat and dry until you get to Iraq. Once you're south of the Kurdish mountains, you're on a dried mudflat…This is, after all, Mesopotamia, a land literally built by the sediment of the Euphrates and Tigris. It's river mud, but nice and dry because very little rain falls,..On ground like that, any force with good morale and enough fuel could advance as quickly as the Sunni have. It's the Bonneville Salt Flats of insurgency, the place you go to set new speed records."
The point being, we have to stop losing our minds and letting a hysterical media and the same gaggle of Neocon pricks who've been wrong about everything for two decades get us involved in every opportunity to make war in the Middle East. Are ISIS a bunch of Bad Men? Undoubtedly. But that doesn't make them an existential threat to the republic. So how about we all take a deep breath before, yet again, expending ever more blood and treasure in the region?